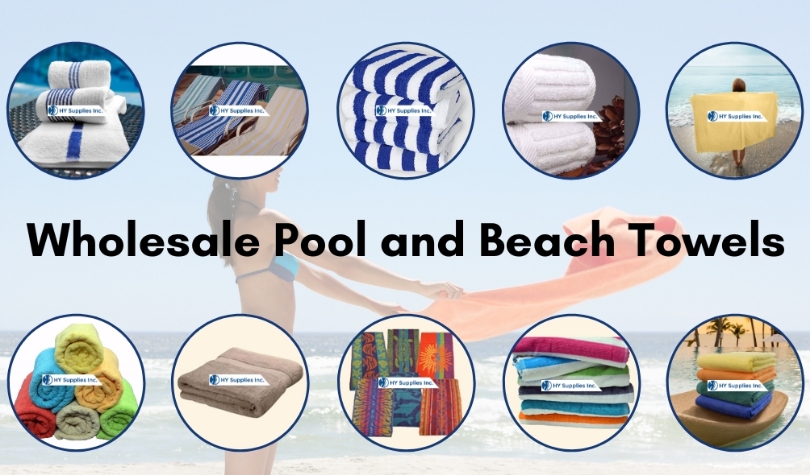 Tue, Aug 29, 2023
0
What distinguishes pool towels from other towels?
Best Pool towels are made of thinner fabric, so they won't be like the ordinary bath and face towels to absorb more water from the body. They don't act as the better absorbents to dry the skin, as in the case of other towels, where their absorbing rate is good enough to dry your skin. Pool towels during sunbathing will normally dry the skin with sunshine on the beach. Pool towels are lightweight and used to cover the entire bed reed, whereas bath towels are less durable and will get damaged over time. Bath towels can't be used as pool towels because bath towels are short, while pool towel requirements are longer and wider during the pool bath. Normal bath towels will measure 70x120 cm, much smaller than pool towels. Whereas the towels for resorts and pool areas usage measures 80x150 and 80x160cm. Another difference between the pool and bath towels is that bath towels will be the same on both sides. On one side, the pool towels were non-absorbent for sand removal, and the other was soft and moisturizing to dry the skin after bathing.
Most of the pool towels were made of cotton and terrycloth material. They are effective absorbents and economic ones. Cotton is the best material to apply for pool towels, according to the suggestions of many experts. Cotton is a versatile material known for its better moisture-absorbing and wicking ability. Sometimes, cotton or polyester with the cotton blend is chosen as the pool towel material in most hotels, motels, and restaurants for their exceptional durability. Many aquatic world players like swimmers, boat riders, and polo players prefer to use the terrycloth for better absorption. Pool towels will have chlorine deposition after long-term usage, so it is necessary to prefer the regular wash cycle compared to gentle wash. Pool towels should be immersed thoroughly in the detergents longer to remove the chlorine deposition.
Pool towels are available in different patterns, such as bright, colorful, and printed types. In material-wise selection, they are available in soft, lightweight, absorbent, and refreshing patterns for better comfort and relaxation. Pool towels are available in striped, solid color, white with color stripes, tropical stripe, and cabana stripe pool towels. Preferring the top-rated pool towels will make the customers enjoy the summer vacation with more relaxation. Terry cloth pool lounge chair covers are stain and wrinkle-resistant, better for the chair covers in the beach and pool areas. They can be slipped and removed quickly, so polyester and satin will be the best choice for a longer period.