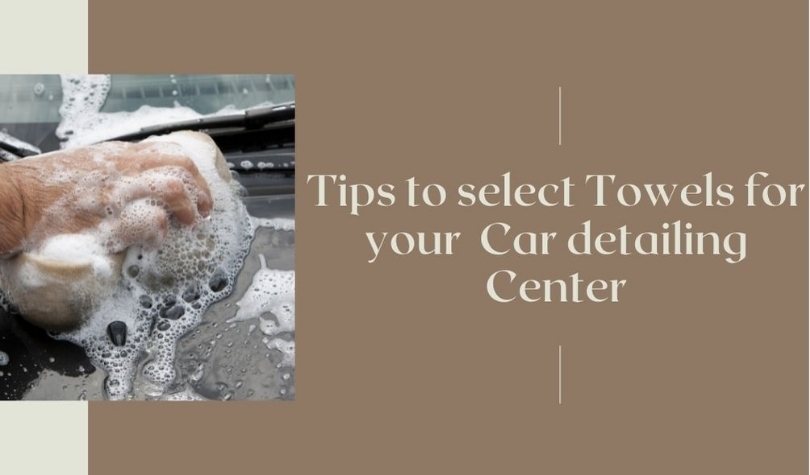 Thu, Mar 5, 2020
0
Tips to Choose the Perfect Cleaning Towels for your Detailing Center
Every owner wishes to keep their vehicles clean and fresh – To do so, either they rely on Professional detailers or people with volunteers who want to raise money from it or the vehicle users themselves.
As detailers you have to focus to maintain the look and feel of the client's car, van, bus, truck, SUV, or recreational vehicle with the use of proper tools such as Dryers, Blowers, Vacuums, Brushes, Water System, Conveyor Tunnel or Self-Service Wands, Towels, Cleaning Chemicals, etc….
Are you facing problems in car waxing, polishing, and interior cleaning to painting care and wheel glossing? Premium Quality, Wholesale Auto Detailing Towels will help you cover all these problems.
Let's come to the point, Here are some factors to be considered while choosing the right towels for your Detailing Centers.
Fabric: When it comes to detailing towels Cotton is the best choice. Cotton fabric will avoid causing any scratches or damages to the vehicle due to its softness, absorb water faster compared to others, and is good for repeated uses. One of the main factors in Cotton is high absorbency; these fibers soak well in water so you can get the vehicle completely dry after cleaning. The repeated use of cotton fabric is high which means less wear and tear. Buying a wholesale cotton towel will save money, time, and reputation for your Detailing Centers.
Durability: Detailing industries owners, expect the towels to be used several times and withstand multiple wash cycles. Cotton is the best choice, but not all cotton is the same, Invest in High-Quality towels to satisfy your needs for a longer cycle. HY Supplies Inc. Premium Quality Bulk Towels with greater durability help you to save money in the long run.
Weight: As a detailing center, you have to stock a combination of thinner, lighter and heavier towels for multiple uses. The thinner and lighter towels will absorb less water and dry faster. The heavyweight towels soak up well and get dry comparatively low.
Distinct Sizes: Car Detailing includes waxing, polishing, and interior cleaning to painting care and wheel glossing. Each task required different level sizes. The towel's sizes like 12" x 12", 15" x 25", 15" x 26", 16" x 27", 16" x 26", 16" x 16"

,

fit best your hands for smaller areas such as dashboards, glasses, etc. Bigger size towels like 20 "x 40", 22" x 44", 24" x 48", used for cleaning larger area at a time.
Variety of Colors: You can purchase separate color towels for each detailing task such as waxing, polishing, and interior cleaning to painting care and wheel glossing.
Terry Cloth: Cotton Terry Towels are best suited for Detailing Industry. Because it is a woven fabric with long loops that can absorb large amounts of water. Its content is usually 100% cotton, but may sometimes contain polyester. Durable and versatile Wholesale Cotton Terry Towels are ideal use for cleaning the whole surface of the car body.
Microfiber: When it comes to cleaning a Car, Microfiber Towels play a vital role in the current situation. A Microfiber Towel is woven with synthetic fiber, which has yarn that is finer than silk. This type of fabric can able to attach itself to the smallest and more microscopic dirt particles than the normal fabric. There are plenty of benefits of this fabric which will be used to clean effectively and have better absorbency more than seven times than that of the traditional 100% cotton fabric.
Cleaning Cloth: There are wide collections of Cleaning Towels such as Herringbone Towels, Lint Free Towels, etc… made of 100% cotton they are extremely absorbent, and Lint Free.
HY Supplies Inc. helps Detailing Centers in offering a wide range of Car Wash Detailing Microfiber Towels at wholesale prices to save your money and reduce the repurchasing choice every month. Shop Online for Bulk Detailing Towels.