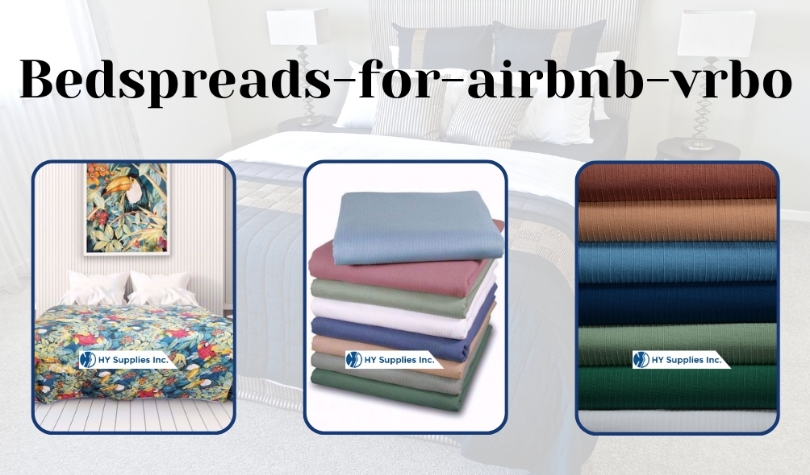 Mon, Nov 27, 2023
0
Choose the most comfortable and beautiful bedspreads
The introduction of this guide will cover the top considerations for choosing the perfect bedding for short-term rentals, focusing on microfiber bedspreads that are perfect for hotels and motels. Comfort is Key: Opt for High-Quality Materials In short-term rentals, guest satisfaction is paramount. One of the first things guests notice is the comfort of their sleeping space. Choosing bedspreads made from high-quality materials is crucial to ensuring a restful night's sleep for your visitors. A welcoming and comfortable atmosphere for your Airbnb guests can be created with the correct bedding choices. Microfiber bedspreads are a great option because of their hypoallergenic qualities, suppleness, and breathability. Visitors will love how comfortable and opulent these bedspreads feel.
Durability Is Important Invest in Durable Mattresses
Short-term rentals move quickly, and bedding gets used and washed a lot. Purchasing sturdy bedspreads is crucial if you want them to survive the challenges of frequent turnover. In addition to being plush and cozy, microfiber bedspreads are renowned for their durability. They are a great option for hotels and motels that offer durable, fashionable bedding because they hold their quality and appeal even after several washings.
Style & Aesthetics: Establish a Warm and Welcome Ambiance
A short-term rental's aesthetic appeal greatly impacts how happy guests are. Every bedroom has a focal point; selecting visually appealing spreads can improve the atmosphere. Please take a look at the bedspreads with sophisticated patterns and hues that go well with the furnishings of your property. Because microfiber bedspreads are available in so many types, it's simple to pick the ideal addition to the design of your home.
Choose Comfortable Bedding That Can Withstand Frequent Washing to Reduce Upkeep.
In the management of short-term rentals, efficiency is crucial. For busy property owners, choosing simple bedspreads to clean and maintain is a wise decision. Microfiber bedspreads are durable and known for their resistance to stains and wrinkles. This makes them a practical option for hotels and motels where quick turnovers are the norm.
Affordable Options: Microfiber Comforters for All Budgets
While offering the highest level of comfort and style is crucial, proprietors of short-term rentals also need to consider their budget. Microfiber bedspreads provide an affordable option without sacrificing quality. They are a great option for furnishing several rooms in a hotel or motel without going over budget because of their price.
In conclusion, the bedding selection greatly influences guest happiness and the property's reputation in the cutthroat world of short-term rentals. Choosing microfiber bedspreads for hotels and motels may achieve the ideal balance between comfort, durability, style, and affordability. Upgrade your best bedspreads for Airbnb or short-term rental with bedspreads that both meet and beyond visitors' expectations to guarantee great ratings and return visits to your home.