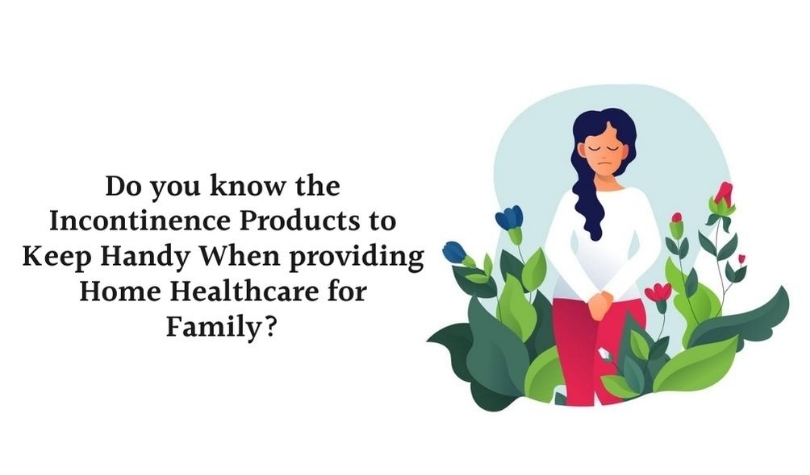 Thu, Oct 29, 2020
0
Do you know the Incontinence Products to Keep Handy When providing Home Healthcare for Family?
With so many home healthcare supplies out there to assist adults with changing life events, there is always confusion where do you start? Incontinence in the adult is a common condition that calls for a bit of research and preparation, so you have supplies in the home and available when needed. Because we not only want the best protection for our loved ones, also want them to feel comfortable, confident, and carefree, not timid or tied down!
There is a variation in shapes, sizes, and needs of different adults, as there is no one-size-fits-all when it comes to incontinence care. The unexpected leaks can be light or heavy and can occur once in a blue moon or more frequently. Let's have a quick guide for you to make sorting through the options a little easier. Whatever may be the need, a solution is available to help you feel self-assured in your caregiving and, most importantly, add worry-free ease to the life of your loved one.
Reusable incontinence Underpads:
Underpads are Large, Absorbent, and Washable. They are designed for Hospital Patients to contain bladder leakage and protect bedding, protection for incontinence issues, with and without tuck-in wings or anti-friction backing. It prevents them from moving around in the bed.
During the incontinence, the furniture is likely to get soiled even if they always wear incontinence briefs, leaks happen. It is tough to deal with that kind of intense cleanup or have to worry about odors that get stuck deep inside unwashed cushions. Hence Incontinence protection for furniture makes cleanup easier.
Pads
Incontinence pads are the same as liners that lend to the physically able woman but provide extra absorbency for extra protection. Be it overnight security or fast absorbency, your loved one needs a pad. It offers moderate to heavy leakage protection in a variety of styles and sizes – after all, comfort plus protection equals confidence and invincibility.
Underwear
Underwear gives good relief, if your loved one struggles with accidents due to confusion or memory loss, or is physically unable to reach the bathroom in time. Underwear products are just like regular underwear, adding normalcy and assurance to the lives of those who experience heavy leakage. A different range of comforts, absorbencies, and sizes are available for both women and men.
Briefs provide both supreme comfort and maximum protection. The comfort of secure fastening and easy removal keeps everything under control, which means confident and worry-free living. If your loved needs to lean while being tended to, incontinence briefs speed the process and ease the back, with hook fasteners that have unlimited ability to refasten.
Pads
The pads are a choice for adults who experience moderate to heavy leakage, designed to provide an even more discreet, flexible, and contoured fit than our regular women's pads. It is ideal for those who enjoy a more active lifestyle and want to maintain stylish and carefree protection while out and about. A bonus for caregivers is that all pads in this system come with wetness indicators.
Adult incontinence need not be a barrier to carefree living. So many resources and personal care products are out there to help you find the solution that best meets the needs of your loved one. Find the right Incontinence care products and make sure you have ample supply on-hand at home and when traveling so that you can both feel confident.