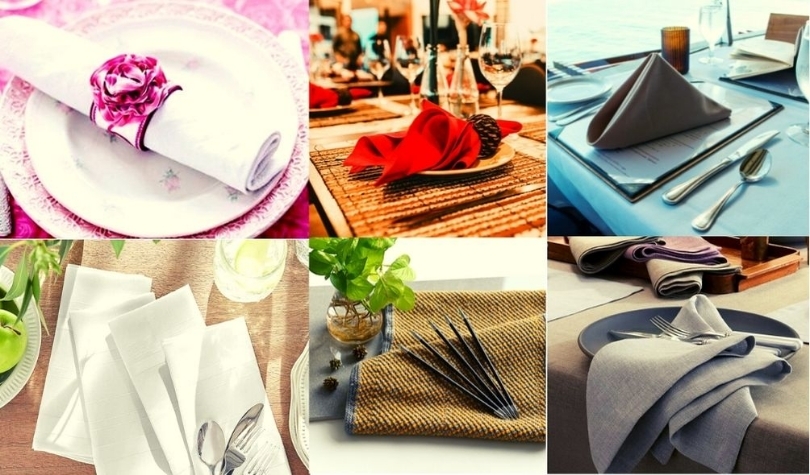 Tue, May 28, 2019
0
Vast range of Table Napkins for High–Class Restaurants / Banquet Hall / Wedding Parties
As soon as enter into the five-star restaurant or any restaurant, the customer will start to devise about the quality, menu, lightings, table settings, decorations, linens (Tablecloth & Napkins) all plays a role whether to return the restaurant again or not.
Normally cloth napkins are used for formal dining occasions and Paper napkins are used for less formal meals. Presenting proper cloth napkins is also a part of table manners. It is not only just swab at the mouth while eating soups or other foods.
The study suggests that 64% of the US customers preferred cloth napkins than the paper napkins, 77% notice the way a table is set while visiting the restaurants, 82% better appearance and atmosphere, 75% with better food quality, 88% prefer customer service and 84% with environmentally friendly.
Whereas, there are a wide variety of cloth napkins in distinct sizes, for ex. larger size napkins like 22" to 24" are used when more food is served, Lunch napkins were 16" to 18" square/rectangle, Cocktail napkins with 10″ to 12″ square. The fabric weight varies based on the type, like Polyester, Poly Cot., 100% Cotton. Standard weight from 180, 200, 225, 250 GSM etc.
| | | |
| --- | --- | --- |
| 100% Spun Poly Bistro Napkins | 100% Poly Fandango Herringbone Weave Color Napkins | 100% Cot. Momie Weave Napkins |
| 59/41 Cot. Poly Saxony Color Napkins | 100% Spun 2 Ply MJS Poly Color Napkins | 50 / 50 Poly Cotton Miranda Color Napkins" |
| 50/50 Poly Cotton Twill Color Napkins | 100% 2 Ply Ringspun Cotton Satin Band Damask Napkins | 100% Spun Poly Color Napkins |
| 100% Cotton Bird's Eye Weave Napkins | 100% Poly Faux Burlap Havana Color Napkins | 100% 2 Ply Ringspun Cotton Black Satin Band Damask Napkins |
Cloth napkins are soft and smooth to touch, easy-care, absorb moisture and are available in different qualities, colors, and styles. Some of the qualities like 100% spun poly stripe, Poly Cotton, 100% Cotton, and 100% 2 ply Ringspun Cotton. Spun Polyester is tested to last over 300 washes. Heavy cotton blend type texture spun fabric does not fade and has higher absorbency eliminating negative aspects of 100% Poly Napkins.
Matching napkins with tablecloths is an added experience for mealtime. Choose napkins with high thread count, white/color, polyester or cotton, cotton mix damask napkins which gives the added elegant and luxurious look to the restaurants.
Some of the Table Manners with Cloth Napkins,
Smooth motion is necessary without crack or shaking while unfolding the napkins.

The larger size napkins are unfolded in a half.

Smaller napkins are unfolded fully and cover the lap completely.

Don't insert napkins into the collar or between the buttons of the shirts.

Use the napkins to stay on the lap until the meal is finished.

A gentle wipe is necessary.

Place the napkins on the chair or left of your plate, while leaving the table.
HY Supplies Inc. has a wide array of Wholesale Table Napkins (Cloth) - Crafted in USA and Premium Imports for your Restaurants.