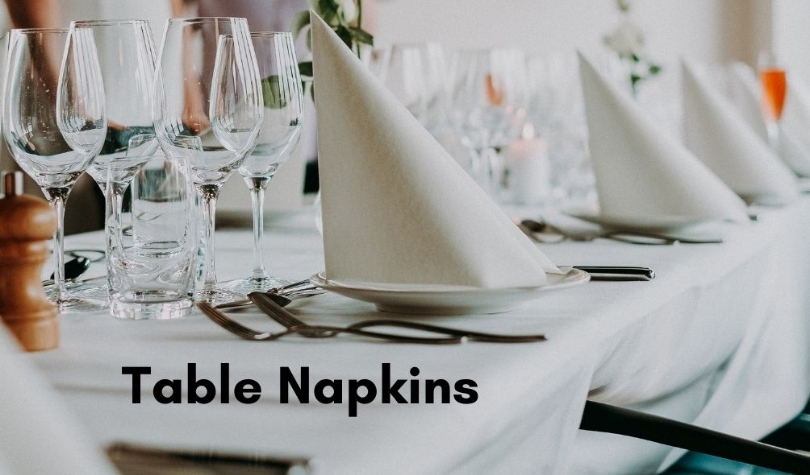 Wed, May 25, 2022
0
Why Everyone is Obsessed With Table Napkins
We all know that a table is incomplete without proper table napkins. But it's not always easy to find the best variety of napkins for a specific occasion or event. We've put together this list of five things to consider while buying table napkins. Let us get started!
Style
The first thing to consider when buying table napkins is style. Are you looking for a casual, formal one? It's better to understand the ideal table napkin style from the start to have a clear picture of the kind of napkins to buy. Some napkin styles like printed, monogrammed, and personalized napkins may come in different colors, prints, and designs. You can choose from paper or cloth variety depending on what you want. At the same time, spun polyester napkins are highly durable and are highly resistant to tearing.
Quality
What are you planning to use for the table napkins? Do they need to be strong enough to withstand the food mess, or do they have to be presentable? Their weight, texture, and thickness determine the quality of table napkins. It is best to choose napkins made from quality cotton, linen, or polyester. Thus, white polyester napkins bulk buy are hot selling in the market because of their quality and practicality.
Material
The material of the table napkins also depends on the style of napkins. Most cloth napkins are made up of 100% cotton and linen. On the other hand, printed and monogrammed napkins are available in paper, spun polyester, and fabric variety. You can choose a napkin made from the softest material, most appropriate for a particular function. Bulk cloth napkins for weddings are used to complete the look of wedding tables.
Size
The size of your table napkin should be proportional to the size of your dining table. It should neither be too long nor too short. Table cloths come in different sizes to choose the best suits your table. Moreover, customized table napkins are available for those who want their table to be exclusive. The cloth napkins can be printed at your wish or decorated with a design of your choice. You can even combine available designs by using multiple clothes of different shades and prints.
Price
The actual price of table napkins depends on the grade and material used in their production. Different kinds of napkins have different prices, so you can easily choose the most affordable ones for your needs. You may buy wholesale linen napkins for restaurants, polyester napkins for home parties, and cloth napkins for wedding tables.
Summing up, table napkins equip your table with a touch of elegance and class. In this article, we presented five things to consider while buying table napkins are all about picking the right ones that suit your budget, style, and use. Therefore, table napkins can enhance the look of your table as they are perfect for creating a simple yet stunning decoration.