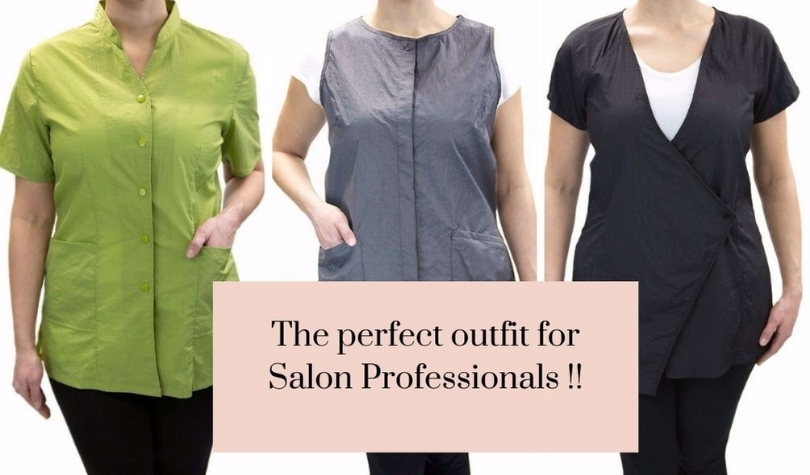 Wed, Mar 27, 2019
0
Perfect Outfit for your Beauty Salon Professionals !!
Here, we are going to see the different styles and varieties of Salon/Spa Apron for your employees to make a good first impression in front of your customers. Our Apron will be neat and stylish which give a positive impact on your business now and in future days.
Our Elegant Salon Aprons are used with Superior Quality breathable material for more comfort and ease of movement and designed with repellant to water, hair, color, and chemicals will not affect your regular uniform or dress.
Take a look at our Wide Collections of Salon Uniforms. Available in different Brands such as Fromm Apron, Diane Apron, 1907 Apron, and Charlene Aprons.
| | |
| --- | --- |
| | Fromm Brand Apron is made from lightweight polyester microfiber with an adjustable neck strap, waist ties in slimming pattern and front pockets that fits any person. |
| | 1907 Brand Apron with Full sleeve and sleeve-free in Polyester Microfiber Blend with Leopard Print Teflon fabric with adjustable neck strap, waist ties, and two angled pockets. |
| | Diane Brand Apron is available in a waterproof Nylon material with vinyl backing. Multiple pockets with adjustable neck and waist ties. There are a variety of sizes and a style varies one from the other aprons which are more durable and easy to care. |
| | Charlene Brand Aprons contains distinct varieties in quality, colors, texture, and styles. There are many variations from one style to another style such as adjustable neck strap, waist ties, lower pocket, middle pocket with zipper, chest and front pockets. |
Ideal for Nail technician, Haircutting, Hair coloring, Beauty Therapist, etc… in Beauty, Barber, Nail, Tanning Salon or Spa, Massage Center, Treatment center and Beauty School.