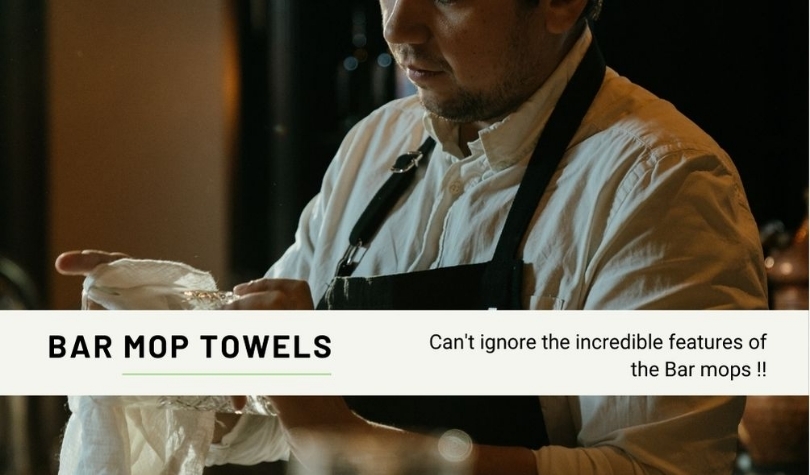 Tue, May 25, 2021
0
Why Restaurants require Bar Mops along with Kitchen Towels?
Before researching towels, I thought both Bar Mops & Kitchen Towels are the same. Then, from the deep study on towels, I realized that towels could be with many disguises depending upon the tasks they will perform.
Do you know that how bar mops differ from Kitchen Towels?
Bar mops are denser and plush than Kitchen Towels. Besides, it's more absorbent to dry bar glassware.
Bar Mops – Front House Cleaning
The name tells the story of what is initially used by bartenders to wipe away the spills on the bar counters and other equipment. Later, it's extended to clean the tables in the front-house and bar region because of its high absorbency.
Kitchen Towels – Clean up the messy kitchen.
Chefs hold this handy piece of material to clean up kitchen spills. And it is also used to wipe the dust from the kitchen counters and sinks.
Now we got to know about them well.
This blog will point out why restaurant people shouldn't ignore bar mops while purchasing their linen supplies.
For Dust-free Countertops: Countertop is prone to get messed up easily with dust and liquid spills. It's essential to clean the countertops each time when a guest leaves and arrives. Otherwise, it will be an annoyance for your customers to place their arms on the dusty or wet surface. High absorbent bar mops remove the liquor spill on the countertop.
A bar is a place where a Collection of stemware ranges from shot glasses to cocktail glasses. Those glasses must be glossy and shiny to let customers feel your good bar service. Bar mops playing a pivotal role in keeping the stemware shiny. Bar mops is a small piece of cotton or microfiber cloth that is woven by tiny fibers. These Small fibers never leave scratch marks on the glass surface.
"Spots" on the utensils like Plates, Spoons & Forks symbolize your poor service. The excess water creates spots that remain on the surface of the silverware after the dishwashing. A small wipe from the bar mops would do the magic on utensils. Because of the high absorbency, bar mop towels dry the utensils without leaving spots.
Aside from the cleaning activities, bar mop towels use to handle the hot pots and hot pan of the microwave oven. Bar mops are thick enough to withstand high temperatures. Bar mop towels protect hands from burning while holding the cooking pots and food trays.
Amidst the hassle chores, bartenders need hand towels to dry off their wet hands. Cotton bar mop towels can act as Hand Towels. Bartenders can keep them handy to ensure clean and dried hands.
Bar mops indeed have some vital roles in maintaining the front house and bar. This fact would suffice for purchasing bar mops along with kitchen towels for your restaurants.
No matter how good your hospitality service is, your guests must consider your clean & Shiny environment. It would be best if you let them be served well. Bar mop towels would help you to keep the clean and pleasant front house.
If you have anything to add to the list, feel free to share that in the comments!!