Why are hospital gowns required for patients?
Tuesday, May 9, 2023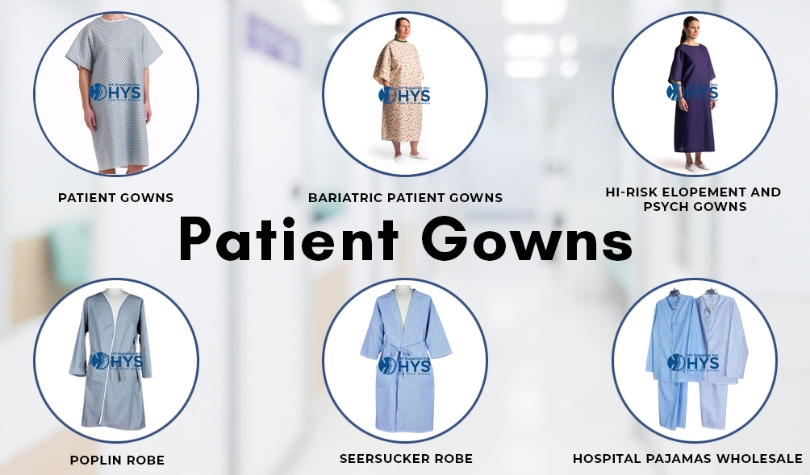 Personal protective equipment, or PPE, is frequently utilized in healthcare settings. Suppose the wearer comes into touch with potentially infectious liquid or solid material. In that case, they are employed to shield the user from the spread of disease-causing bacteria.
Patients' hospital gowns are made to make it simple for medical workers to access the area of the patient's body being treated. The medical gown is tied at the back with twill tape ties. It is constructed of a material that can survive repeated washing in hot water, typically cotton.
Gamma radiation is used to sterilize specifically made clothing items known as sterile gowns. They serve as an example of personal protective equipment (PPE) intended to stop the transmission of illnesses, particularly in medical facilities where staff members frequently come into contact with harmful liquids, vapors, or solids.
Reduce the risk of hospitalized patients contracting an infection. Reduce the likelihood that hospitalized patients will contract germs. Reduce the time a patient is in the hospital or intensive care unit. Unfavorable events will occur more frequently.
Hospital gowns for patients
Hospital Patients' gowns have a crucial safety function, particularly during pandemic periods for those in hospitals and healthcare facilities. They are essential items of personal protection in the healthcare sector. Patients and hospital workers managing various treatment processes with patients' bodies will find patient gowns useful.
Kid's hospital gowns
Hospital gowns for kids are made just for Kids, designed especially for children. These Kids Hospital gowns are 100% woven polyester makes up these hospital scrubs for children. Children's Hospital Gowns are available in various styles, including Kimono infant gowns, Teen patient gowns, Pedi gowns with ties, Pedi IV gowns with snaps, and Pedi PJ shirts with snap closures. They are perfect for pediatric kids, young children, and teenagers.
Mammography patient gowns
Mammography patient gowns were suitable for pregnant women normally. They were fabricated with soft cloths to have the comfort and soft feel for the women at the delivery time. So, they were made of Heavyweight fabric, Kimono Style, feminine rosebud print, and Waist-length. Another pattern used by the gynecology unit sector for pregnant women is the snap front Mammography cape for pregnant women.
Disposable patient gowns
The materials used to produce disposable gowns give them fluid resistance. The fluid-resistant property increases its capacity. Reusable gowns are made of tightly woven cotton or polyester and chemically treated (PHO, 2020b). If gloves are worn with a gown, they must be large enough to cover the gown's cuffs since they are disposed of in large quantities after their purpose is needed, so order disposable gowns in bulk for repeated uses. Customers are interested in dealing with wholesale hospital gown service providers because they can save more money from bulk orders.