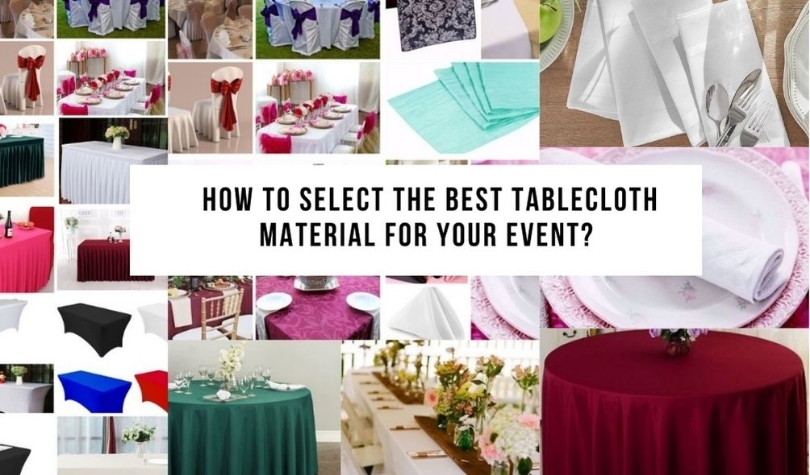 Wed, Feb 24, 2021
0
How to Select the Best Tablecloth Material for Your Event?
A tablecloth gives an additional touch that makes the event more beautiful. Of course, you are not going to choose the same tablecloth material for each event. In this article, we are going to know about choosing the material that's right for your occasion (and other useful tablecloth tips!)
Different Kinds of Event are You Throwing
The type of tablecloth you are looking to get depends on the type of event you are planning to throw.
For having a dinner party, chances are you are only going to need one tablecloth, which means you can afford to splurge on a more expensive tablecloth.
For a children's birthday party, disposable and themed tablecloths can be used.
For working with a wedding or a fancier event, you will have to look at both budget and the number of tablecloths that you need to use. It is important to set a budget for yourself so you know exactly the quality of the tablecloth you are going to be able to get.
Tablecloth Material to Choose From
All materials do not suit all occasions, so before you buy, make sure you choose according to your event needs. You can find all these types of tablecloths and more from HY Supplies Inc.
Polyester is a synthetic material designed to be more durable than others. It is useful for both indoor and outdoor purposes. Polyester typically doesn't have a high price point, but if you are going to use it for many tablecloths, the bill can add up. Polyester is reusable, and machine washable.
It has more shine than a cotton tablecloth and comes off silkier to the touch. It is the ideal choice of tablecloth for a semi-formal dining scenario or fancy outdoor picnic. It is also wrinkle-resistant, so you won't have the urge to run over it with an iron before the event begins.
Linen is a natural fiber that is more suitable for a more traditional tablecloth. Depending on the make, the fabric is stiff to the touch so it is not suitable for formal events, but can be a great option for outdoor picnics and events.
As it has a natural moisture-wicking property, linen becomes another popular choice for outdoor tablecloths. The texture gives an old-fashioned vibe and can be machine washed.
Silk
A silk tablecloth adds elegance and grace to your event. These tablecloths, however, are often pricey. It is most commonly used at formal get-togethers like weddings. Silk tablecloth often comes embroidered, which adds even more of a unique and classy touch to the occasion. Since the cost of silk is too high, silk tablecloths are usually available for rent to save costs.
Vinyl
A vinyl tablecloth is a distinct tablecloth that comes to your mind when you first think of a tablecloth. Its extreme durability makes it stand apart from other tablecloths. There is no need for any spills or drop on the tablecloth since it will slide right off. It is usually available in fun prints that lend easily to a themed party.
Cotton
The cotton tablecloth is the ideal choice for everyday use, that too for indoor use. Cotton is less suitable for prolonged outdoor use since it tends to deteriorate or and expose to more extreme weather conditions like heat or rain.
Cotton typically has a low price point. It is more suitable for a dining room table or kitchen table to add a more formal look and clean-off spots where people may have spilled with a sponge or rag.
HY Supplies Inc. has an exclusive collection of Tablecloths in different shapes and colors. Do check it now!