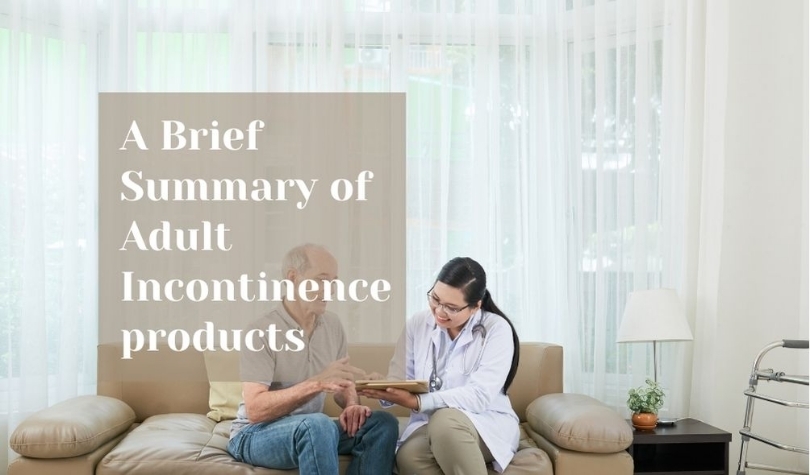 Mon, Jul 27, 2020
0
A Brief Summary of Adult Incontinence products
Incontinence products can dramatically change an individual's ability to participate in everyday life. More than a quarter of all women, at some stage of their life, and by nearly a fifth of older men experience this condition.
Incontinence can cause isolation, and result in depression and psychological problems. It prohibits social activity and active participation in the workforce.
There is a wide range of products in adult incontinence products in the market designed to meet the needs of people of all ages and gender. They enable users to:
Maintain a sense of dignity

Be confident that they will not experience leakage

Work and take part in social activities

Have confidence in odor control

Maintain hygiene and cleanliness

Retain independence

Protects skin health, as highly absorbent products, and uses breathable materials to reduce skin wetness.
Caring for a relative, friend, or patient who is incontinent is often distressing and a tough task. Effective adult incontinence products can be a great help in this situation.
Incontinence products for adults highly resemble regular cotton briefs as a result of sophisticated constructions and innovations in nonwovens, elastics, and films. Not too long ago, sufferers had a very restricted choice – the products available in the market were little more than big versions of baby diapers, bulky and often with serious fit issues. As a result, they were less efficient, and users had to dress around them.
But Products of the current market can be virtually invisible under even the tightest of clothing, providing the three qualities that users most need – comfort, security, and discretion.
Incontinence products from HY Supplies Inc. are available in different sizes, shapes, and functional performance levels, required to address different levels of the problem, as well as coming in gender and age-specific variants.
The adult incontinence products help to:
Save valuable care time in changing and disposing of products allowing more time for other vital caring activities

Make changing a less hard process

Reduce the buying costs by limiting the need for care of infections and bedsores caused by wetness and leakage

Reduce maintenance costs and time in washing soiled clothes and bed linen.
HY Supplies Inc. Offers Incontinence products with odor control technology on wholesale prices. Click here to view the NEW HaloShield® -odor control technology behind SALK's Incontinence Products.