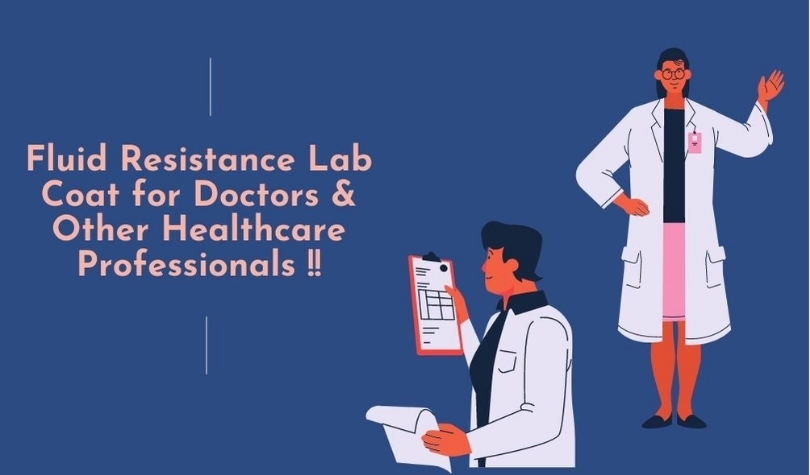 Mon, Jan 20, 2020
0
Classic & Professional Fluid Resistance Doctor's Lab Coat for Healthcare Industry
In Medical professionals, the person with a white coat and stethoscope around their neck symbolizes a Doctor or Medical Student. Normally, White symbolizes purity, elegance, professionalism, caring, and trust towards their patients.
According to History, Doctors won't wear white garments in the 19th century, in fact, they wore black. It helps them to avoid messy stains and dirt during the practical function, but they face death most of the time and it signifies deep seriousness and sadness. Due to this situation, Hospitals started to change by applying their beds with white sheets, nurses topped with white caps, and doctor's white coats to restore the trust in the minds of Patients and the Public.
Even though, white coats have various opportunities and goodness some physicians started to reject them by thinking it is out of fashion and possibilities of spreading germs and disease via white lab coats. To stop this argument, The Chief Medical Resident Mr. Christopher Petrilli M.D from the University of Michigan proved that there is no documentation spreading of germs or bacteria through the white coat. It shows the official uniform, a symbol of faith, purity, and care by Doctors towards their patients. Mr. Christopher Petrilli explains, "As physicians, we should make sure that our attire reflects a certain level of professionalism that is also mindful of patient's preferences." This is the way the light white lab coat was born.
The White lab coat with "long length and sleeve below the elbow" becomes the identity for Doctor's which helps them to protect from germs or any kind of fluids landed on them during or after surgery. White Lab Coat plays an important role in differentiating a Doctor from the common man in Hospital Receptions, Operation Theatres, Normal Ward, etc… It creates a prestigious image and status in the minds of patients and other people.
Doctor's Lab Coat comes in a variety of fabrics like 100% Polyester, Poly Carbon, Nylon, Rayon, Modacrylic, Poly Cotton, 100% Cotton, Barrier fabric, etc. for long day comfortable work. Lab coat with 100% Cotton or cotton /polyester blend is durable, comfortable, and lightweight at the lowest price. The combination of cotton and polyester fabric is less wrinkles-free and is easy to wash and wear. The polyester fabric makes the lab coat tough and long-lasting to withstand laboratory conditions and accidental spills and will be wrinkle-free for all-day work. It is easier to maintain and dry quickly than cotton; it might keep you warm, less expensive, much durable, and easy to take care of.
| | | |
| --- | --- | --- |
| Fluid Resistance Lab Coat with No Pockets | Poly/Cotton exposed snaps with 2 hip pockets | Fluid Resistance Lab Coat with 3 Pockets |
Next comes the size of the Wholesale Lab Coat, Previously White Lab Coat was designed to fit only for the male's body, later companies started to design Lab Coat for Women's which fits a woman's body with different sizing options, and is comfortable for them. HY Supplies Inc. provides a wide range of Fluid Resistance Lab Coats in distinct sizes like XS-XL, 2X, 3X, 4X, 5X, etc.
Eventually White becomes the standard color for Lab Coats which represents Cleanliness, Innocence, and Trustworthiness. It helps to differentiate from other homeopathy and gives highly respected. In 1990, this becomes the standard apparel for all physicians in the medical industry. But nowadays white becomes out of fashion and threatened and made to feel timid in the minds of patients. Based on this situation, some physicians started to wear Lab Coats in different color choices like Ceil, Beige, Sage, etc….
The Length of the Lab Coat varies between Doctors and Medical Students. Usually, Doctors wear long-length coats to represent them licensed physicians. Some hospitals allow them to wear short-length coats representing a commitment to lifelong learning and set to reach the next level in their practice. There are no set rules based on the length of the coat in healthcare industries. There is a practice of conducting a "White Coat Ceremony" for Medical Students, in which they started to wear short lab coats as a symbol of beginning medical schooling.
HY Supplies Inc. provides Premium Quality, Wholesale Lab Coat features with Fluid Resistance, Collar, Full-Length Sleeve, Breast Pockets, 2 Hip Pockets, Snap Closure, and Knit Cuffs. The backside of Lab Coat is specially designed with poly/cotton blend for better comfort which is available in distinct sizes and colors based on the requirements.