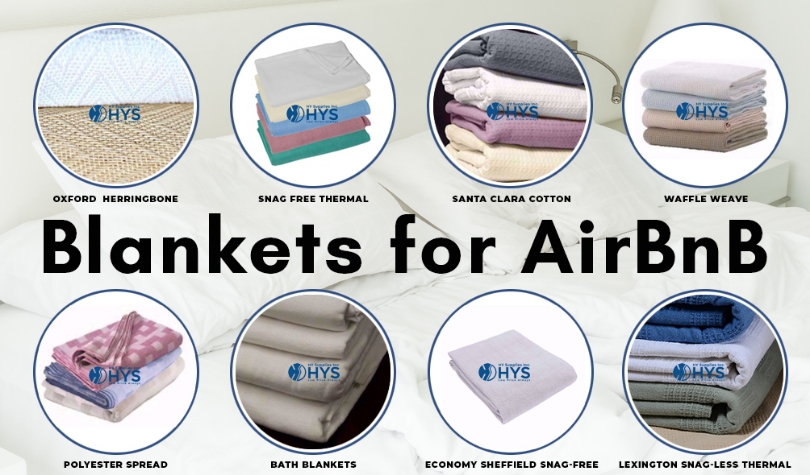 Tue, Nov 29, 2022
0
Where to purchase the Finest Blankets for your Airbnb?
Renters mostly require good quality bulk blankets for Airbnb (Air mattresses with bed and breakfast! They should offer them a comfortable sleep after a journey or travel especially. After all, there are higher cases that their belongings don't match the environment where they are staying. So, Airbnb hosts should always prepare in advance to guarantee top-class Bed & Bath Linens to their clients. Something unforgettable!
Generally, users expect that extra layer of comfort when feeling cold. There are chances that an Airbnb renter would also prefer to take away the blanket for camping purposes. Hence, it is not easy for one to select the top-quality blankets for VRBO and Airbnb suitable for every use case.
Managers generally find it hard to arrange the finest products. It is not easier to withhold consistency and high standards throughout the Airbnb business. So, to uplift it, it is a must for any property manager to make sure to give the best service or hospitality to customers. In return, there would be higher possibilities of positive reviews from Airbnb guests!
5 Simple Tips to consider for choosing the Finest Airbnb & VRBO Blankets
No matter if you are searching for the best quilt for Airbnb or throw blankets for Airbnb! Offering neat and clean blankets should encourage hygiene. It also helps one gain a reputation and respect from Airbnb clients. After all, caring about the great sleep of travelers will always be appreciable. The below suggestions would help you save time in buying bulk blankets for VRBO and Airbnb hosting;
1) They should be light in weight and capable of regulating the temperature.
2) Instead of focusing on product care and features, one should consider its weight and size.
3) Airbnb property managers or hosts should also check the durability of the products before use. Thus, helpful for a profitable business ahead.
4) VRBO & Airbnb blankets should be easier to fold for better storage and handling. Some people also like to use such blankets as pillows.
5) To offer a satisfactory service to Airbnb guests, never compromise in selecting Blankets made of any material. Here are some of our suggestions for Airbnb and VRBO use cases;
- Snag-less Thermal Blankets
- Pure Cotton Herringbone Spread Blankets
- Leno Weave Blankets
- Waffle Weave Blankets
- Open Weave Thermal Blankets
- Bath Blankets
- Honeycomb Blankets
- Polyester Spread Blankets
- Microplush Fleece Blankets
Besides, you should always follow the washing instructions given by the manufacturer on the product. It is necessary for proper cleaning, hence ensuring its long-term use!
Bottom Line
We all know Blankets are used to offer a sense of warmth to their users. A cozy blanket can give a home-like comfortable feel to Airbnb renters. If you do not know the right set of blankets to use for Airbnb hosting needs, you do not need to waste your time searching for them here and there.
You can easily find the list of Airbnb blankets formed by testers as per the genuine reviews and feedback of consumers. To get the finest quality blankets for VRBO & Airbnb service, you should not overlook some online portals like HY Supplies. They are tailor-made to ease the job!
Are you into serious Airbnb business?
Do you want to show your care toward your clients?
If so, do not underestimate using the finest 'Welcome Airbnb Blanket' for your guests. You can buy the best blankets for Airbnb wholesale from there at great valuable deals with easy after-sales support.