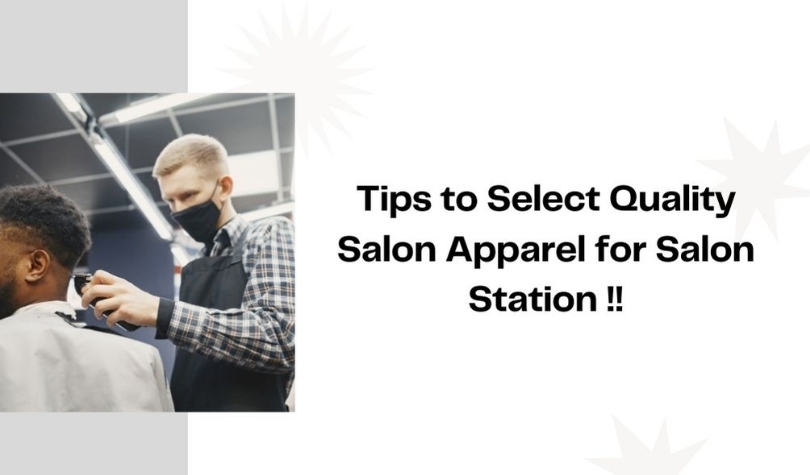 Mon, Sep 14, 2020
0
Tips on Selecting Quality Salon Apparel
Choosing quality salon apparel that looks and feels great is simpler when you understand your options. Whether you are stocking a new salon or upgrading your existing one, only knowledge helps. You can find everything from a styling apron to a client cape in comfortable yet durable materials when you have the right information. In recent trends, innovative salon wear can provide a silky touch or a fashionable print in combination with chemical resistance. Highly functional designs are available at affordable prices. Learn more to experience the top trends in salon, spa, and grooming apparel.
Popular Types of Stylish Apparel :
Depending upon its material, stylist apparel can resist water, stains, wrinkles, hair, and chemicals. Whether you are a stylist, esthetician, nail technician, or barber, choosing the optimal protective apparel is essential. It is of importance to know the level of moisture, stain, and chemical protection a product can provide. Also, be sure to check the meaning of "all-purpose " apparel from manufacturers.
Resistant fabrics resist the effects of a substance, such as water or chemicals. Repellent ones repel the substance on contact, and waterproof or chemical-proof materials deliver high-level protection. Many chemical aprons are resistant fabrics, but some are bleach-proof. Most capes are waterproof. Stylist apparel coverage and protection comes in a variety of forms:
Salon Jackets and Vests
Water-resistant or repellent jackets are worn during the shampoo, cut, and style. They feature multiple pockets for tools. Vests and collared jackets come in various lengths and portray a professional image. Zipper-style jackets can be put on or taken off quickly.
Styling, chemical, and all-purpose aprons come in traditional designs or with a fashionable flair. A chemical apron delivers protection during the color, perm, or other chemical services. An all-purpose apron usually means you have one apron that is ideal for all salon services. The fabric on aprons treats with Teflon or other similar special coatings. Styling aprons without treatments work well for basic services. Most aprons adjust at the neck and waist via snaps or ties.
This form of apparel provides additional coverage of the arms and body while offering deeper pockets. Smocks and cover-ups resist water, wrinkles, and even hair. The Lightweight cover-ups are a salon standard and available with soft-touch materials.
The Client Apparel Options
The Premium client apparel in the salon reliably keeps clothing and skin free of damp hair, moisture, stains, and in some cases, chemicals. Selecting the ideal coverage for a particular service is vital to comfort. Client apparel can also make a fashion statement. Items, such as salon gowns or spa wrap weaved from materials with a luxurious feel. Client gowns are designed with sleeves and provide extra coverage during the service or spa treatment. Though most are one-size-fits-all, they are available in varying lengths. The cape is an essential item for every salon client. The most common salon capes are:
Shampoo and styling - waterproof or water-resistant; provides a barrier against drips and splashes, as well as shampoo and conditioner.
Kid-friendly or child-safe - specially designed for children in size and pattern, these capes should also be made of kid-safe materials.
Chemically resistant - specially treated apparel for perms, highlighting, or other salon services.
Stain-resistant - resists general salon stains but not the effects of chemicals.
All-purpose - may offer the convenience of water and chemical resistance.
In addition to these styles, there are also shorter comb-out capes made strictly for hairstyling and larger barber capes made with male clients in mind. Place your Bulk Order for Wholesale Salon Apparels at HY Supplies Inc. today!