Which lab coat is best for you and your workplace?
Friday, August 18, 2023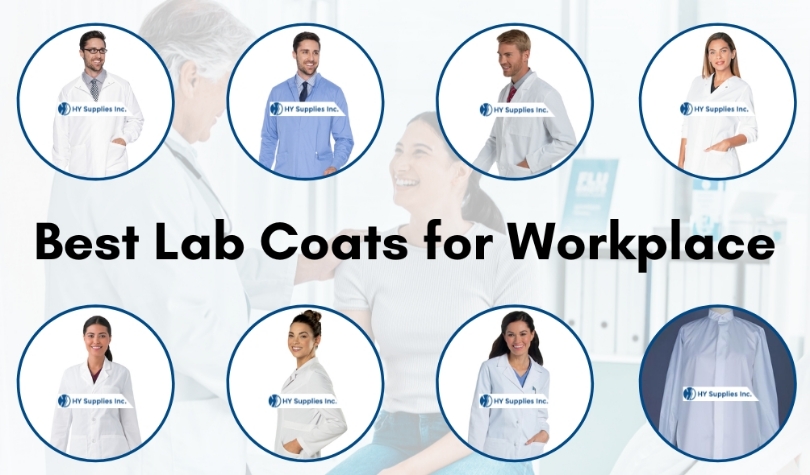 Lab coats were used in late 1800 during many inventions and scientific eras. They prevent skin, clothes, or any hazards in the laboratory. They prevent the transportation of contamination from the laboratory to the family, neighbors, friends, kids, and home pets. By wearing lab coats, working professionals are adhering to safety standards. Wearing a lab coat is a fundamental requirement in laboratory settings.
Most preferred lab coats are made of 65% polyester and 35% cotton with elastic cuffs for easy adjustments during working hours. Lab coats are protective wear for professionals like doctors, researchers, scientists, and other hardworking community people. These lab coats are available in distinct formats, for example, cotton lab coats for hospital use by doctors and white lab coats for scientists. White lab coats have rigorous respect for the scientists.
White lab coats show the indication of other chemical and hazardous substances spill clearly, so it is better and advisable to use white lab coats for scientists. White lab coats represent Researchers wearing personal protective equipment, which includes lab coats, scrubs, gloves, and safety eyeglasses. These outfits are worn normally by the researchers in the laboratory.
The important thing to consider for professional doctors and those in the health care units is to make themselves clean and make their lab coats look better. Cotton lab coats available for doctors should be fluid-resistant, fade-resistant, and breathable in full and short format.
Lightweight Lab coats should be used since doctors, researchers, and scientists have to wear their lab coats throughout the day. Lab coats are usually made of polyester, improving the product's strength and durability. Medical professionals have to take care of their diseased patients, surgery, transfer of blood, disposal of urine bags, and arrange other facilities for their admitted patients. Lab coats protect the blood and vomit splashes of the patients during the treatment and act as a barrier to prevent spills from chemicals and other hazardous substances. Lab coats are also categorized as short and long lab coats. LongLong lab coats have the resistance to protect from the worst weather conditions.
Sleeved roll-down lab coats with opened buttons give the impression of being a better scientist and researcher. Wearing a goggle will make the scientists and researchers even more professional. Lab coats will protect them from dirt, dust, and other contamination during lab working hours.
For handling harmful chemical substances, it is necessary to use the lab coat with additional protective clothing. Rubber or vinyl aprons can handle excessive corrosion and hydrofluoric acid.
Apart from professional usage, students are using these lab coats for the following reasons:
• Laboratory works
• Biological lab study, hazardous chemicals, and waste handling
• Handling specimen study etc.