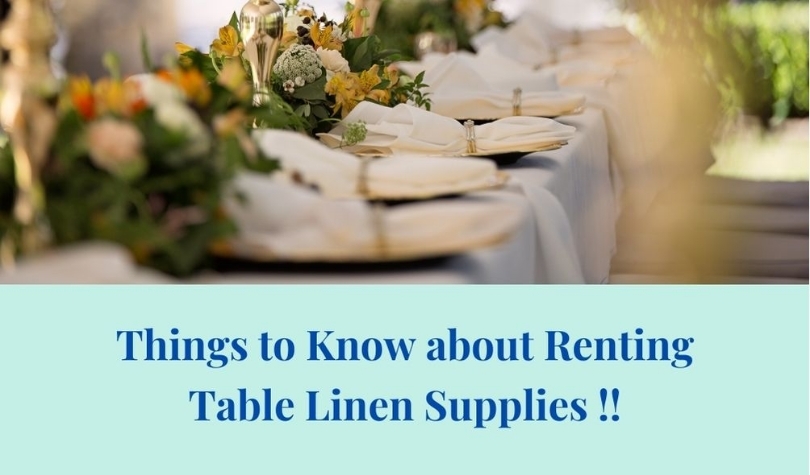 Thu, Sep 16, 2021
1
Things to know when Renting Tablecloth for Wedding!!
Things to know when Renting Tablecloth for Wedding!!
Do you have any experience in wedding table decoration arrangements?
If yes, you must come across lots of confusion on choosing a tablecloth, table napkins, chair covers, table runners, and other table decorating accessories. The accessories you selected for the table décor elevating the aesthetic look of the tablescape. Whenever guests enter the wedding venue, their eyes are placed on the well-decorated tables. So, the choice we make in the table decoration has to cherish the guests.
The color, pattern & texture of the tablecloth should reflect the theme of the event. This blog will discuss the essential things to keep in mind in acquiring a rental tablecloth for the occasion.
Keep everything in detail:
Each small object you put in the venue plays a significant role to beautify that moment—for instance, the folding style of the table napkin, Flowers colors, etc. Every minor detail should be in your picture; this helps you to create an unforgettable memory. It's better to keep tiny details in your requirements when sourcing the tablecloth rental vendor so that they can take every detail as a matter and fulfill it.
As we know, table cape acting as a hub of attraction. Make a bold choice to expose the beauty of the theme idea. It's not fair to decorate all tables with the same tone of table covers. Throw luxurious tablecloth over the tables in the central focal point. These high-profile tables are visually interactive with your guests to make a significant impact.
Planning is the only way to make a perfect presentation. Plan everything regarding the decoration and be clear about table count, size, shape, and extra tables. Besides, check the inventory of the table linen rental service provider to ensure they meet up all of your requirements.
Get Suggestions & Assistance:
Your vendor may help you choose the trendy and fresh colors of tablecloth that suits your theme. Consult with them about the design and color combination of the tablecloth and other accessories. Their suggestions and advice may help you to enhance your creativity.
Check the payment details:
Please read the contract agreement and payment details clearly before signing them in. Some vendors cost you extra hidden charges for their handling services. If you felt unnecessary added charges, go for other vendors or negotiate them to lessen the charges.
Through the rich decorations, you could turn the D-Day moment into an adventurous one. Take your time to explore your interests and personality and bring the ideas into the tablescape to imprint evergreen memories!! Check out our exclusive collection of table linen rentals for all your wedding, Party and events for all your occasion. Shop now and Save your money more!