A Full Overview of Selecting the Best Beach Towels
Tuesday, May 16, 2023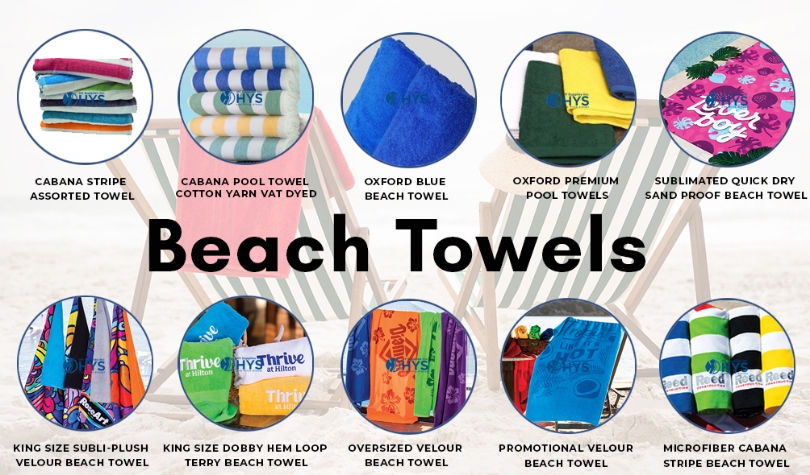 Despite selecting the best beach towels, cotton can be a better material due to its adaptability and capacity for water absorption. This premium natural fiber can create many towel kinds, which their weaving techniques can identify. Through the process of ring spinning, Cotton fibers are turned into yarn. Before this process, the combing process is an additional process to remove the weaker short fibers. Again remaining short fibers are removed by the process called "carding," and straighten the remaining ones; they are more parallel and uniform. Each of these processes will increase the final cost of the beach towels.
A great companion for your beach trip
Microfiber Towels for beaches are made of microfiber, are sand-free, and are thinner and weightless than terry cloth towels. They are normally synthetic materials, polyester blended combination, and are well known for drying quickly. Microfiber towels are multipurpose towels used in the kitchen, outdoors, and for industrial cleaning. It is not advisable for longer contact with the human skin, especially sensitive ones.
The materials that can absorb moisture and wick it out differ significantly. A persistent moisture sensation will be present with the wicking fabric. Polyester towels are similar to sportswear in that they are made to wick away moisture rather than absorb it.
Striped Cabana towels as per the needs or the voice of the clients. They are more stylish in look with comfort and compact with a lightweight fabric. They are better absorbents with antibacterial support with quick drying nature. They resist stains, chemicals, and other harsh materials with eco-friendly support. Ideal for Resorts or Tourist homes Pool, and Beach. Cabana beach and pool towels are available in 30x60, 30x64, 30x70, and 35x70 standard sizes.
Cabana striped towels will give your beach day a touch of class!
In contrast to ordinary bath towels, Cabana striped beach towels are larger. Swimmers can use pool towels to cover their lounge chairs or to dry off their wet bodies. When the pool towel is small, it occasionally takes two or more to cover the lounge. Beach towels have a lighter weight compared to bath towels. They are crucial because they act as a buffer between the body and the sand. They are used daily to dry out the body. Wrap yourself in the extra-large towels or spread them out on the beach or a lounge chair for cloud-like softness since these beach towels are made of the softest and best quality cotton.
Beach towels are available in distinct sizes, but 30x60 beach towels are the most popular among the standard sizes, like 36 x 72 and 42 x 84. Because 30x60 is more comfortable for family use, they can go for 36 x 72 and 42 x 84 sizes if they need extra coverage.