What are the benefits of using bleach-proof towels in the salon?
Wednesday, May 24, 2023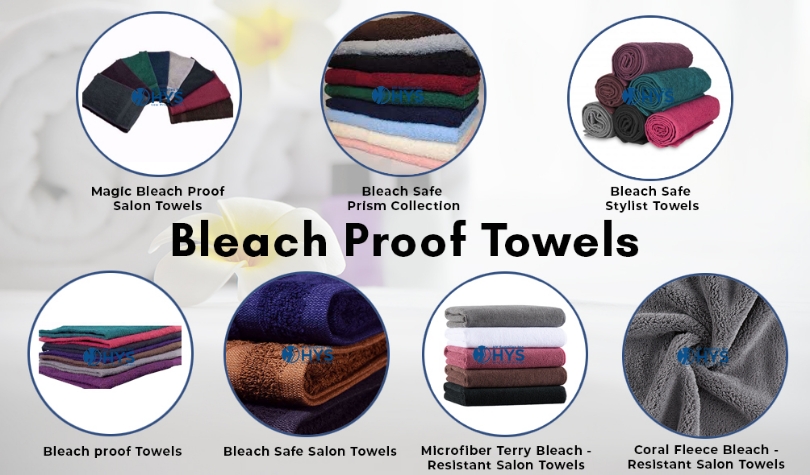 Bleach-resistant towels were made of 100% cotton with the application of a special dye. They are nonreactive to bleach, making them the perfect choice for salons, spas, restaurants, and many other businesses for beautician centers.
For salon use, non-chlorine bleach is better for colored washables. It won't disinfect, but over-bleaching will reduce the fibers' strength, affecting the absorbent capacity of towels.
Washing with hot water is safe for colored towels. Fabrics are dyed normally with nylon, acrylic, polypropylene, and polyethylene. Polyurethane-made fabrics can resist high concentrations and bleach of harsh chemicals and alcohol.
They are classified into magic-proof, bleach-safe; bleach-proof, microfiber-type, and coral fleece-type bleach towels. Each bleach towel has its specialties to match our client's requirements.
Nice look after so many applications
Normally clients come to the salon to relax from their day-to-day stress. But if they find their towel has a discolored appearance, they will feel uncomfortable visiting and, they think twice about visiting your shop again. Bleach-safe hairdressing towels are the better choice to address the discoloration of your towels from dyes and harsh chemicals.
Also, they play the role of stain-resistant towels to prevent the towels from dirt, dust, stain, and other color dyes from reacting with your bleach towels.
Attracting colors of magic-proof bleach towels
Magic bleach-proof towels have more color choices compared to other bleach towels. They are normally available in 8 to 10 shades, ranging from red and blue to orange and yellow. In your salon, you prefer to rotate your white towels with other color towels, which makes your customers more relaxed with more color decoration towels in your salon. So, don't limit the choice of using only white bleach towels for the different salon applications.
They were made of 100% Premium Ring Spun Cotton Towels with Yarn Fiber which guarantees the most premium cotton towels of the highest quality.
Different sizes
Bleach-safe salon hand towels are available in distinct sizes due to the requirements of various applications. Large towels are required for coloring, whereas medium towels are required for hair washing. But salon owners believe that long towels are the best options for the salon shop. They are normally available in dark shades such as navy blue, chocolate brown, and black to withstand the reaction of strong chemicals and dyes.
They are made of 85% Cotton, 15% Polyester, Bleach safe, Double CAM borders, and tucked selvages. Most towels were fabricated in the advanced continuous bleach and dye system with an eco-friendly approach. This approach of fabrication makes the bleach-safe towels consistent with colorfast dying fabrics.