What types of towels are ideal for hotel use?
Monday, June 12, 2023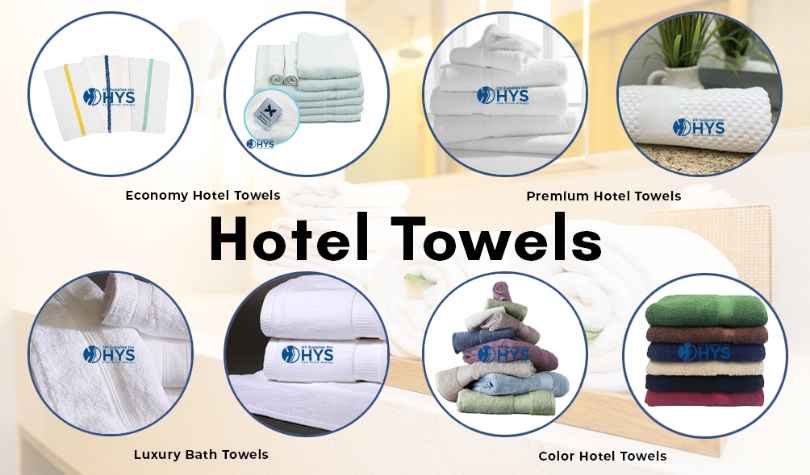 Where to buy hotel towels is a big hypothetical question for the hotel, motel, and resort members.
The selection of ideal hotel towels is based on the weight, fabric, loops, design, and durability (extended life after repeated uses) of a towel. Towels fabricated from pure cotton are the best choice for hotels, motels, and resorts. Most hotels prefer cotton towels for durability. When cotton is blended with cotton, it yields better durability. When the Supima or Egyptian cotton-made towels are considered for purchase, they are considered more durable and soft than towels made from other materials.
Towels with GSM 500 are used for better absorbency and maximum comfort. Towels with a lower weight are cost-saving options in motels and fitness centers. But it won't provide a luxurious feel. So, heavy-weight towels are good for higher-end businesses such as spas, resorts, and hotels. There are varieties of applications involved in selecting a towel based on its uses.
Egyptian cotton, which is softer, fluffier, and cozier than normal cotton, is preferred by high-end hotels. Even Mizu Towels uses this material to create their upscale towels. Some hotels also utilize Turkish cotton in their towels, which is lighter than Egyptian cotton.
The most familiar luxurious fabrics are Egyptian cotton, Turkish cotton, and Pima cotton. Egyptian and Turkish cotton has long-built fibers, making a soft feel and breathable and absorbing fabrics.
Turkish towels are extremely durable yet have a beautiful appearance and feel. These hotel towel sets can be washed repeatedly without losing their lovely appearance, not even the most delicate fringes or embroidery. The greatest Turkish bath towels are manufactured from a high thread count fabric that holds up well to numerous washing items while remaining incredibly soft and fluffy.
Most hotels provide standard washcloths, hand towels, and bath towels. Consider adding some of the various varieties of towels if you want to give your hotel experience something extra. After exiting the shower, guests should stand on a bath mat. Water won't spill out all over the floor, thanks to this. Due to bath sheets' bigger size compared to bath towels, guests can wrap the towel over themselves like a sarong.
HY Supplies Inc. is the hotel towel supplier. They provide a huge quantity of Color Bath Towel Sets for Hotel customers in wide collections at an affordable price. They offer bath mats, hand towels, washcloths, and bath towels to make your guests' stay unforgettable.
Color towels with sculpted jacquard patterns and distinctive geometric diamond patterns are made of 100% Turkish cotton twisted yarn for hotel use. Available standard sizes of the towels are 30×54″, 16×27″, and 12×12″. Most hotels prefer white hotel towels but the color towels stand tall to make enlisting royal and luxurious.