How to Choose the Best Bleach Proof Towels for Beauty Salon Industries
Tuesday, September 17, 2019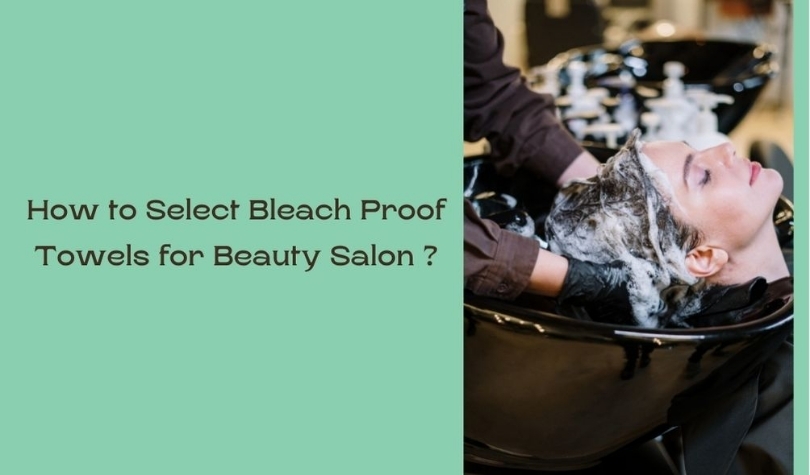 Manager or Owner of Beauty Salons & Spas, Nail Salons, and Tanning Salons need to stock supplies like scissors, razors, electric styling tools, spray bottles, haircutting capes, brushes, combs, hand mirrors, hair coloring instruments, color dyes, hairdryer, shampoos, lotions, etc…
One more item is Towels and it is equally important to run the business success because it gets to use more often.
Any Professional in Salon Industry has to use towels, which are to be washed frequently and maintained properly. Because the survey found that 65% of the customer switched or select their salon based on the look and feel of the towels they are using. Hence, the owner or manager has to give special attention to the towels that it should not be hanging around, spotted threads, or ugly while using on customers.
There are varieties of towels in the market, the best suited for multipurpose like hair cutting, coloring, dyeing, bleaching, shampooing, etc. is Bleach Proof Towels, which is last over 15 years, HY Supplies is the first concern come up with the specific demand for the Bleach Proof Towels since 1991. Selecting dark colors such as Brown, Charcoal Gray, Navy Blue, Green, Burgundy, and Purple will not show up Color Tint and it will best suit your salon design and environment. But light colors will show Color Tint, and it will be removed when washed with Bleach in cold water.
The towel which suits all the purposes is Bleach Proof Salon Towels, Coloring Chemicals such as Peroxide and other Bleaching agents do not affect the color of the "Bleach Proof Towel". Even after Hundreds of Washes, the "Bleach Proof Towel" retains its original color and finish, with no noticeable fading.
HY Supplies provides Wholesale Bleach Proof Salon Towels are popular and economical, available sizes like 16" x 27" & 16" x 29" w/ 3 Lbs which are extra absorbent and dry hair quickly. Thin density towels will not absorb water compared to thick density towels but it will take less time to dry. The fabric used in the towels is made of 100% cotton ringspun yarn w/ Double Hemming on Four Edges and done with the special dying process for softness and long-lasting quality. Suitable for Beauty Salon Towels, Day Spa, Tanning Salons and Nailing Centers.
| | | |
| --- | --- | --- |
| Magic Bleach Proof Salon Towels - 16" x 28" - 3.0 Lbs | Bleach Safe Prism Collection - 16" x 29" - 3.0 Lbs | Bleach Resistant Towels - 16" x 27" - 2.8 Lbs |
Beauty Salons will use lots of chemicals and dyeing processes; Bleach Proof Towels will resist chemicals, bleach, and remove stains of hair dyes, bronzers, make-up, lotions, germs, and bacteria. It will retain color, absorbent, and softness even after more no of washes. These towels are done by a high-quality VAT DYED process to withstand its color and quality.
Benefits of Bleach Proof Towels:
Bleach Proof Towels are used for all salon needs (Coloring, Dyeing, etc…)

Fade-resistant and doesn't affect by chemicals or bleach.

Made of high-quality material and available in distinct sizes and colors.

The bleach-proof towel is more absorbent, smooth, soft, and fluffy.

Can maintain separate colors for various purposes.
We offer great wholesale pricing on Bleach Proof Salon Towels. The more you purchase, the more you save.