The Significance of Towels in the Hair & Beauty Industry
Friday, October 2, 2020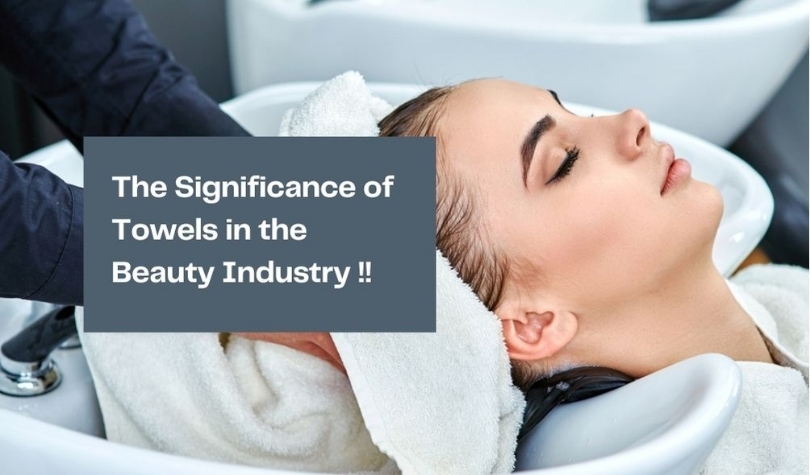 Salon towels play a vital role in your day-to-day life that deserves to be a commendable recall. Chances are, you have cleaned your phone screen with one just now to read this article! But have you ever taken into consideration how impactful your choice of towel is on the world around you? Now check out what you should take into account!
Reusable Towels – Pros Vs Cons
Every day, you come to the salon extra early to get everything ready for the day. You check your stock levels, the register, and freshen the place up a bit. While doing so, you take out your new batch of facial towels and leave a few at each workstation for staff to fold when they come in. If your business is leaning more towards the high-end spectrum, then chances are your towels even have your logo embroidered onto them.
A salon that uses re-usable, cotton towels looks more upscale – that is a fact. Plus, selling them with your embroidered logo can make you a pretty penny. Sadly, that is where the benefits come to an end.
After a long workday, instead of going home and relaxing, you have to grab each dirty towel that is used to cleaning hands, and workstations, car detailing towels, and kitchen towels that pick up any spills. Your trip isn't over – you make your way to the cleaners or wash and dry them at home. Though towels being a pain to clean and dry, doing so also takes away much of your free time. Oh and let's not get started on your water and electricity bills going up! Have you ever wondered how much water and electricity is being used monthly to keep them clean and dry? Let's not forget that if towels are not washed and dried properly, they can spread head lice, harmful bacteria, ringworm, and other undesired fungi.
Disposable towels – Pros vs Cons
In recent years, the hair & beauty industry has jumped on the eco-friendly bandwagon that most other businesses have been riding in for years. Today, salons are making the switch to being more environmentally friendly by using less-harmful products, reducing paper usage by choosing digital salon assistants, and using disposable towels! Now that is something you probably were not expecting –disposable paper towels are far more eco-friendly than cotton ones.
Definitely, they are not something to gawk at when compared to a cotton towel with an embroidered salon logo, but if your goal is to have an eco-friendly salon, then getting these is a must. Before the procurement of Cotton towels, they already use up a substantial amount of resources. Cotton requires a lot of space and water to grow – and water usage only gets worse once they are finally towels. Disposable towels, on the other hand, cut water and electricity usage down by at least 65%.
Best of all, you no longer have to rush to get your beauty salon towels washed, dried, and folded – many great disposable towel brands on the market cater specifically to businesses in the hair & beauty industry! Plus, chances are your client's favor eco-friendliness, so this gives them another reason to choose your salon! Mention that you have taken another step in being more green on your social media fan pages and website and start attracting clients who admire this approach!
Reusable or Disposable Towels – which is the best choice?
When it comes to choosing what works best for your salon, you need to assess your business model – do you run a luxury salon, and your business is well-renowned? If so, then having branded, reusable towels are probably something you would favor – as it shows the salon's degree of "classy" and can be marketed for extra profit on the side.
However, this does not necessarily have to be true for all businesses, as many luxury salons have made the switch to more eco-friendly options. When you look for ways to cut down expenses and bills at the salon or want to create the greenest salon ever – then the choice here is obvious. Alongside your salon assistant and power-efficient hairdryers, lightbulbs, and non-toxic products, your disposable hair salon towels will be something to take pride in!
Check out our website for exclusive towels collection since we are a trusted supplier in the USA for almost a decade.