Where to buy Incontinence Care Products for elderly?
Saturday, February 4, 2023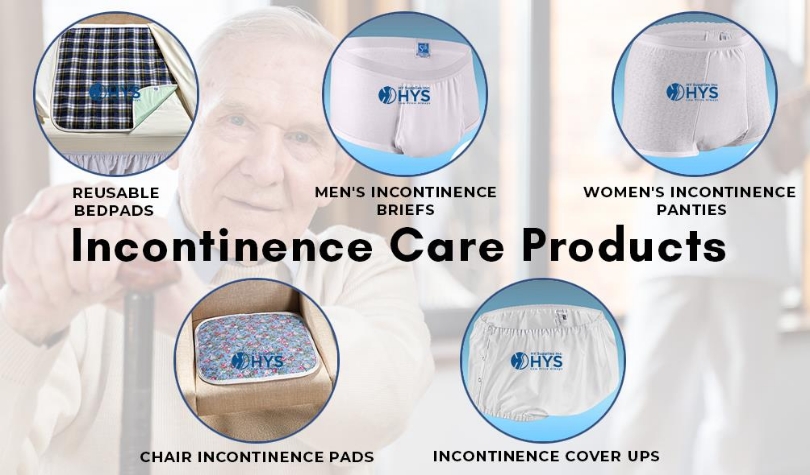 Incontinence is a more frequent problem as we age. Naturally, the bladder and muscles that support the pelvic floor deteriorate. Incontinence can be made worse by medication. A senior's capacity to quickly run to the restroom can also is impacted by certain medical problems, such as arthritis. Contempt and annoyance might result from incontinence for any number of reasons. But you can control your own incontinence or support an older loved one with incontinence thanks to a number of high-quality, discrete solutions. The goods listed below are among the best for elderly people who have incontinence.
Incontinence shouldn't make you or a loved one feel ashamed as you age, despite the many challenges that come with it. You can fully live your life if you use what we've given you to manage your incontinence in a discrete and respectful way. There is assistance available if you or a loved one is having difficulty controlling incontinence on your own. Any senior who needs help with personal care can get it from one of our trained caregivers. Just give the local Caring team a quick call.
Provided you're looking for one of the best places to get men's incontinence underwear, reusable underpads for adults, or absorbent panties for women, HY Supplies is the best place to go. Here, we are known for exceptional satisfaction. We also sell waterproof bed pads for the elderly and washable incontinence bed pads.
Here are other Incontinence Care Products for the elderly you can get from us.
Bed Sheet Protectors or waterproof bed pads for elderly
When an elderly person is in bed, a sheet protector can be used as an absorbent pad on top of the mattress and right underneath them. These pads could, of course, also be placed on a chair or another seating area. For the most part, cotton and polyester are used to make sheet protectors. Even overnight, these pads can prevent moisture buildup on the mattress and bed linens. They guard against both moisture spreading to the person's partner and urine awakening the person.
In addition to disposable and reusable options, sheet protectors are available in a variety of sizes and designs. A few might even include built-in odor defense. For the pad to remain in the same position throughout the night, some have added grips. A senior's preference ultimately determines the best sheet protector.
Absorbent Panties for Women's
Adult diapers or briefs are still another solutions for incontinence during the day. These diapers come in a variety of shapes, sizes, and varieties, but they all provide complete protection against both bladder and bowel incontinence. Seniors can acquire the size and quantity of absorbency they require thanks to adult diapers. Seniors can go out in public or stay at home and be comfortable and dry because they are also highly discreet.
Adult briefs have the advantage of offering coverage whether a senior is standing, sitting, or lying down. Additionally, they include adjustable side tabs that make it simple for caretakers to perform necessary diaper changes.
There is also a reusable underpad for adults which can be cleaned when used.
Men's incontinence underwear
Adult pull-ups and incontinence underwear, often known as incontinence pants or incontinence underwear, are similar to adult briefs except that they lack side tabs. Rather, they have a stretchy waistband and are made to fit more like underwear. Seniors can shred the material at the sides or just put them on and take them off like underpants. Unlike adult diapers, they cannot be fastened again.
Washable incontinence bed pads
The amount of liquid that a washable incontinence pad can hold mostly depends on how absorbent the washable incontinence bed pad is, so the absorbency level of an underpad is crucial.