How do you find the best underpads for patients who are bedridden?
Tuesday, June 20, 2023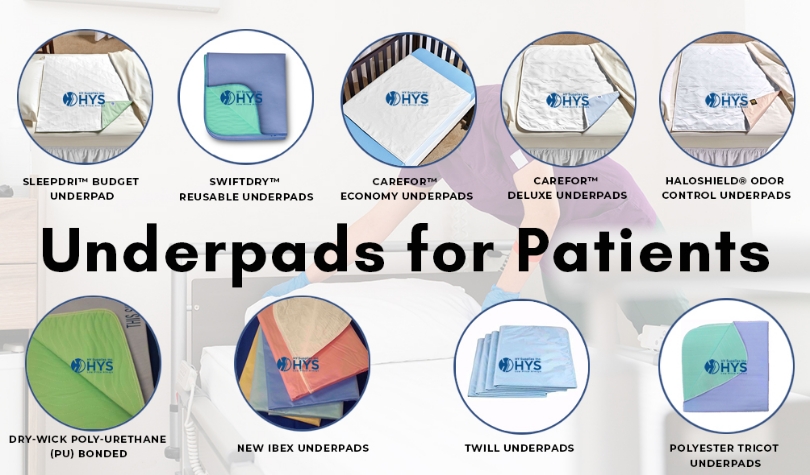 Underpads are a protective layer in the main mattresses to absorb accidental spills or urine leaks in the beds. This product is useful for kids, old age, and injured bedridden.
They not only protect the mattresses alone, but it also protects the furniture, disabled person's wheelchairs, and other surfaces with the chance of incontinence or bed wetting.
Most people suffering from incontinence are unaware of disposable underpads more than regular diapers. Most bedridden people have diapers to absorb the spills and urine leaks.
But, it pulls older people's freedom, affecting their freedom during sleep. Washable underpads for incontinence are designed to avoid bed-wetting issues all around. So, the best preference/choice for absorbing spills and urine leaks is waterproof underpads.
Reusable underpads for beds are the other option available in the underpads. They can be reused with repeated washes or cleaning for more than 200 usages without compromising their absorbency and quality.
Reusable underpads are made of fabrics like Poly/Cotton, Poly/Rayon, and PVC/Polyester Bed pads of distinct fabric blends, ranges, colors, and sizes.
These bed pads are ideal for bedridden patients in hospitals. Generally, underpads are washed with cool water. Most reusable pads have a durability of up to 5 years. Some women suggest it lasts even longer for their bedridden compared to the disposable underpads.
The cost of reusable pads is higher than disposable pads. Still, over time, it seems more economical than disposable pads after repeated uses. Also, it saves cost and time over a long span of period. Reusable pads are as healthier as disposable pads in terms of cleanliness, even after repeated use. Care must be taken to clean the reusable pads properly. Improper cleaning will lead to bacterial and fungal infections in the used area.
Medical bed pads include Mattress Pads & Bed pads / Nursing Under pads made of better absorbent material designed to cover the wheelchair, patient beds, and furniture. It is used in the health care units and hospitals for patients. They are used to avoid blood spilling and urinal infections during the treatment of patients.
It helps the patients recover from their illness/injury quickly by preventing them from pain and infection while in the treatment period. They are available in both medium and high-absorbent materials.
Odor control underpads are made of 100% cotton. They have waterproof and antibacterial they are used to arrest incontinence issues for bedridden people. They provide better comfort, hygiene, and freshness for the patients.