The Ultimate Hair Salon Accessories list
Friday, July 15, 2022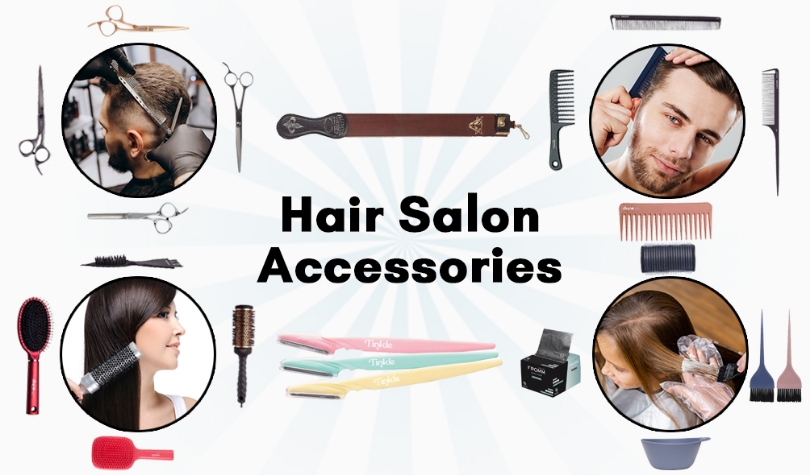 Are you confused about the accessories your hair salon may need? In that case, keep reading to get an idea about the comprehensive list of salon accessories. It would help if you went with hair salon accessories wholesale to get everything at affordable rates in such a situation. Without a suitable hairdressing kit, your salon is incomplete. It is the soul of your salon, and therefore you should be careful while purchasing it. We have covered everything below, from the best hairdressing cutting combs to shaving razor strops.
3 Ultimate Hair Salon Accessories List to Give Your Salon the Best Kit
You might have already noticed a huge variety of cutting sheers and wondered which one to buy. Well, there are different haircutting sheers for different haircuts. Also, their types vary as per the purpose for which scissors are required. To avoid all this inconvenience of carrying different sheers in your kit, purchase the all-in-one scissor. It is useful both for hair cutting as well as trimming small sections. You can get them at wholesale hair-cutting shears prices. Alternatively, you can search for haircut sheers for sale and get them at affordable rates.
Do you wish to give your customers a unique look? Then it would help if you had versatile razors and eyebrow shapers that give the desired look after shaving. To fulfill all your client's requirements, you need a razor in which blades can be changed. At the same time, the blades also need to be sharp for proper shaving. Many times they lose their sharpness with regular usage. So to keep them in good shape, you also need a men's razor strop or shaving razor strop. It ensures that the straight razor blades are always sharp and perfect for shaving.
Right Collection Of Combs
The proper collection of combs is essential for getting that perfect partition during the haircut. Moreover, combs also play a significant role in the styling and sectioning of hair. Therefore to make your job easy gets the perfect collection of hairdressing cutting combs. Also, it would help if you were careful that you only get professional hair-styling combs. Or else, instead of purchasing the best cutting combs for a hairstylist, you buy regular combs. They are only good for combing and not be of any help when you go for sectioning of the hair. Not just that, you also need combs for blow-drying or styling hair. So do not go for regular combs even if they are cheap. Instead, try to look for hair combs for sale to get them at a fair price.
These are some of the essential items that your hair salon accessories list must have at all costs. Without them, you struggle to get the desired haircut or even sectioning of the hair. Always remember that good-quality tools are the foundation for good-quality customer service. Therefore, instead of compromising on the quality of salon accessories, get hair-cutting shears or any tool at a wholesale rate.