Which Combs are the best for hair salon use?
Wednesday, December 14, 2022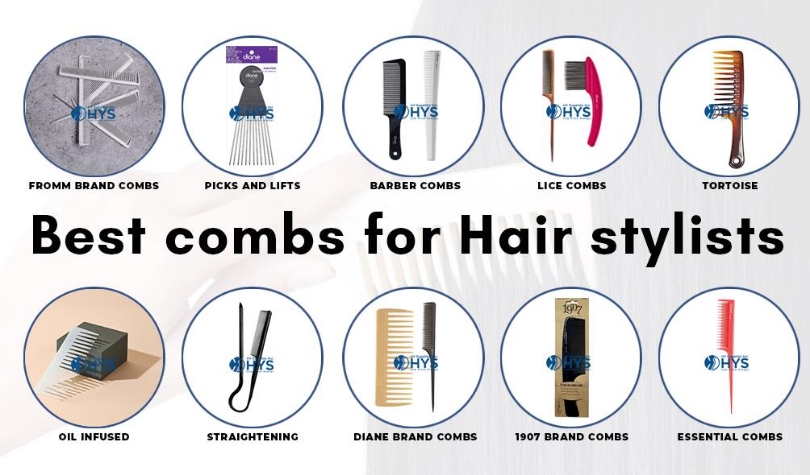 A variety of hairstyles and general grooming may be accomplished with a pick comb, which helps to raise the hair partially. The pick comb features large teeth and a relatively short handle, making it simple to manipulate and quick to style hair in various ways.
A pick comb is also your greatest friend if you have the type of hair that is both curly and very thick. If you have been using your comb to give yourself the part you desire or to comb out your hair after you have showered, continue reading to learn more about how different types of combs may make your life more comfortable and your hair more attractive.
The many kinds of salon combs are listed and described in the following paragraphs.
Best Hair Combs for Salon
Wide-Tooth Comb
The all-purpose comb has teeth that are evenly placed and durable, whereas the wide-tooth comb has teeth that are widely spaced and sturdy. The all-purpose comb is used mainly for detangling.
Because the teeth are spaced so far apart, this comb cannot untangle the tiny knots, but it is ideal for detangling the hair while it is wet because of how the teeth are arranged.
Compared to a comb with fine teeth, it has a far lower risk of getting tangled in your hair and pulling it out. Consider placing your wide-tooth comb in the bathroom's shower stall if you are seeking an innovative new approach to use the one you already own.
Fine-Tooth Comb
The comb with fine teeth only has teeth that are very closely spaced apart from one another. Compared to the teeth found on a wide-tooth comb, these teeth are often narrower and less robust.
People who have significant hair are the ones who should use this comb the most since it makes detangling tangles much simpler. If your hair is coarse or curly, a heat-resistant styling comb should be in your collection of styling tools.
Barber Comb
Barber Comb is the best cutting comb for hair stylists. If someone occasionally cuts or trims their hair or the hair of someone they care about, there is a good chance they have this comb in their house. Because it often has one side with big teeth and the other with finer teeth, an all-purpose comb and a barber comb may appear like one another at first look.
On the other hand, the altitude of certain teeth is quite a bit less than is typical, enabling the barber to cut closer to the skull without risking damage to the customer.
Pick Comb
The pick comb is a more compact one designed to be used in an upright position. It may be crafted from plastic, wood, or metal, but what sets it apart is its more prominent teeth, which are intended to lift or tease hair that is exceptionally thick or curly.
People who wish to achieve an afro appearance or make the most of their naturally thick and curly locks will benefit significantly from this comb.
Pin-Tail Comb
The pin-tail comb is very similar in appearance to the heat-resistant rat-tail comb. However, the long horizontal handle on the pin-tail comb is even thinner and made of metal rather than plastic.
If you consistently use a straightening iron on your hair, this is an excellent choice since it provides you with even more accuracy while you work on your style.
You can guarantee that you straighten each strand of hair with the pin-tail comb without missing any of them. Moreover, there is also a straight comb for hair stylists in the market.
Conclusion
Many professional hairdressing combs are available at most big-box retailers and on the internet. On the other hand, it is more helpful to have a conversation with your hairstylist or barber about which alternative would work best for the texture of your hair and the look you want to achieve.