10 Types of robes – Fabric used and their uses
Friday, September 2, 2022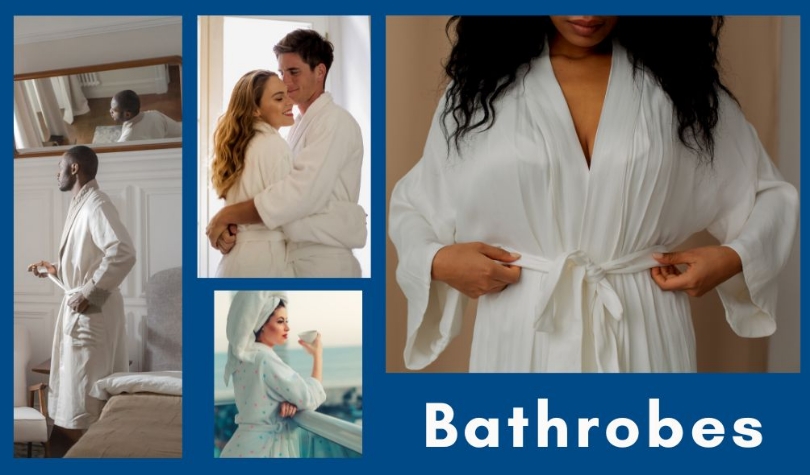 Famous Japanese Kimono Robes
The list will have been incomplete if the famous kimono-style robe is not mentioned. They look elegant and traditional as it is made of silk. It is an excellent bath accessory and can even be used as a nightgown. It is available both in length as well as in short styles and is found commonly in spas.
Trendy Hooded Robes
No doubt people love hoodies, and the same concept has been incorporated into bathrobes. Now bathrobes also come with a hood to cover wet hair. It is perfect for anyone looking for warmth after a comfortable bath. There are both women's and men's bathrobes with hoods available in different lengths.
Quick Absorbent Terry Cloth Robes
If you do not want to dry yourself up quickly after hot showers, then get terry cloth robes. The best part is that they are comfortable on the skin and will help you get dried. It comes in different sizes and lengths, making it easy to find the appropriate one for you. Along with that, they look stylish, and they are perfect for all occasions.
Velvety Cotton Bathrobe
If you are searching for a bathrobe that feels cotton but has a velvety approach, buy a cotton velour robe. They stretch like cotton and fit perfectly to any size body. The velour bathrobes come in two materials that are cotton and polyester. Moreover, they are soft and comfy due to their velvety touch.
Incredibly Soft and Absorbent Waffle Weave Bathrobe
If your skin is sensitive and cannot tolerate roughness even a bit, then get a waffle weave bathrobe. They are fast-drying robes that are used both at home as well as in the spa. Its advantage is that people of all ages can use it in all climatic conditions.
White Dressing Gowns for Relaxation
Unlike bathrobes, white dressing gowns are only used indoors and when you get dressed up. You will find them in spas as well as in makeup rooms. Its primary purpose is to help you relax indoors but cannot be used for drying like bathrobes. The only similarity between robes and dressing gowns is that they both are loose-fitting robes.
Collar Robes to Look Classy
Are you a fan of collared outfits? Then never miss out on collar robes as they look classy and stylish at all times. You can use them indoors, outdoors in spas, and in every other place you want. You will also find this type of bathrobe for couples in similar colors for twinning.
Zipped Robes to Give a Modern Touch
Unlike kimono-style bathrobes, zipped robes do not have a tie. Many are not comfortable wearing robes with ties. In such a situation, zipped robes come in handy to them. Anyone can purchase it from a vendor selling hotel bathrobes in bulk.
Plush Robes for a Soft Touch
Plush robes are the best choice for you when you are high on comfort. It is called plush robes for the same reason as it resembles a soft toy. These robes will make you feel warm and cozy on all occasions.
Bed Jackets for a Non-Bulky Feeling
Do you feel that bathrobes are too heavy and bulky for you? That doesn't mean you have to give up on bathrobes. It is because you can still use it in the form of bed jackets. They resemble jackets and do not have any zipper or string to them.
Now you know the correct type of rope that will fulfill your needs. It is no longer confusing for you to select one out of so many options of bathrobes. Always look for comfort while purchasing any robe.