Table cloths with fire-resistance!!
Tuesday, October 12, 2021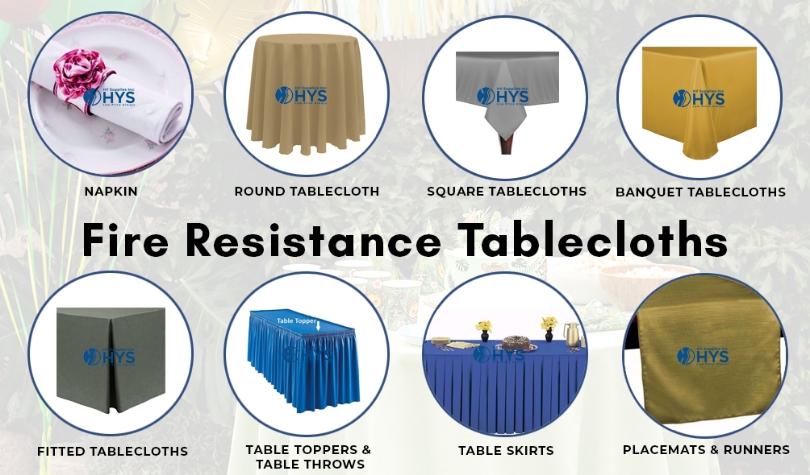 Fire-resistant is the tablecloths that meet the most standards requirement. These tablecloths are specially made for fire resistance, meaning that no flame retardancy treatment will ever wash out or fade table covers. Fire-resistant and flame-resistant are products that are designed to be non-combustible at the chemical level. It is self-extinguish without melting, dripping when it is exposed to extreme heat. The fabrics which are used will burn, but some are more explosive than others. The fibers like cotton and linens are most synthetic fabrics that resist ignition, such as nylon, acrylic, or polyester.
Table linens provide you compliant textiles to local and State Fire Marshal and convention center inspection requirements with certificates and individually sewn in IFR product tags on the inside of each fitted tablecloth. A tablecloth act as a tool to communicate at the overall level of formality. For casual events, it's appropriate; for formal events, a drop is more fitting.
Linens create a mood for the meal in the customer, irrespective of the situation like festive, elegant and romantic, or severe and professional. Linens help to create a unified look and are designed to withstand daily use while disposable covers. The table cloths are available in several shapes like round, square, etc., in the Centers like Event Hall or other events or public buildings, flame-resistant linens are required. The Polyester Table Linens meet the NFPA 701-2010 test-1 flame resistance test standards.
Materials available in HY Supplies are as follows
Napkins
Round Tablecloths
Square Tablecloths
Banquet Tablecloths
Fitted Tablecloths
Table Skirts
Pipe & Drape
It is made up of cloth or paper used at mealtime to wipe the fingers or lips and protect the garment. Linen is one of the common materials used in making table napkins. These napkins are crafted from pure linen that is mercerized and dyed. Elegant napkins and tablecloths are made with fine linen.
The round tablecloth is the standard tablecloth that inspired visions of gallant Knights, chivalry, and, of course, in modern times, this type of tablecloth is considered particularly appropriate when the requirement is for a group of guests.
The square tablecloth is mainly used in a romantic situation in a good restaurant. Just imagine the music, the aromas, and the ambiance. That's a square tablecloth. The type of tablecloth is the best platform for romance.
The banquet table cloth is Skirting & Overlays for Round / Straight Tables appearance.
Fitted tablecloths are popular tablecloths it is designed to fit snugly around a table. ''Someone hasn't just thrown a cloth over that.' 'It is one of the best remarkable serving tablecloths for events which, on one side, have a decorative side that masks unpleasant to a sub-table storage area.
Table skirts are cloth or paper which is used to cover the edges of the table. It is used to hide legs or to make the table more decorative. Table skirts are in the panel and can be used according to the needs.
Pipe and Drape is a weighted steel base, which provides a drape support frame with removable drape panels.
We supply high-quality Polyester Fire Retardant tablecloths in different sizes and shapes at a wholesale rate to buy them, enjoy the comfort, and have high durability.