Guide To Choose The Right Table Skirts For Wedding & Other Events
Tuesday, July 9, 2019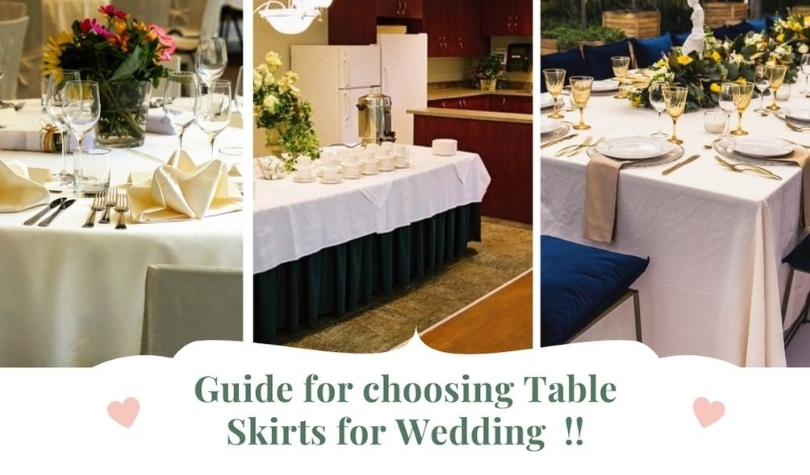 Table Skirts can make any table a stylish look, whether it is a wedding dinner, business conference, trade show, holiday celebration, etc. Before choosing the table skirts, we have to determine table skirt sizes, styles, and colors along with table skirt clips size needed based on the atmospheric effects.
Table skirts also give a sense of formality and elegance that can't be recreated. In the marketplace, there is a wide range of table skirts such as Gathered or Shirred, Knife Pleat, Box Pleat, French Box Pleat, Fringe, and Swag Table Skirts available for both Standard Height Tables and Custom Height and Length Tables.
Gathered or Shirred Table Skirts are most popular, due to their simplicity and less expensive compared to other styles. The continuous gather across the top of the skirts resembles drapes on a curtain rod and it gives a full and ruffled appearance because of tighter gathering.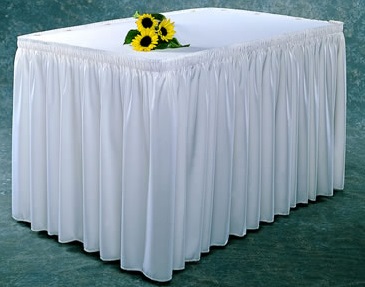 A Knife Pleat Table Skirts are one among the kinds of table skirts, it will be folded in one side in the same direction which is also called side pleats. Knife pleats create a smooth and precise line down the length of the skirts. These are cost-effective compared to other pleated varieties.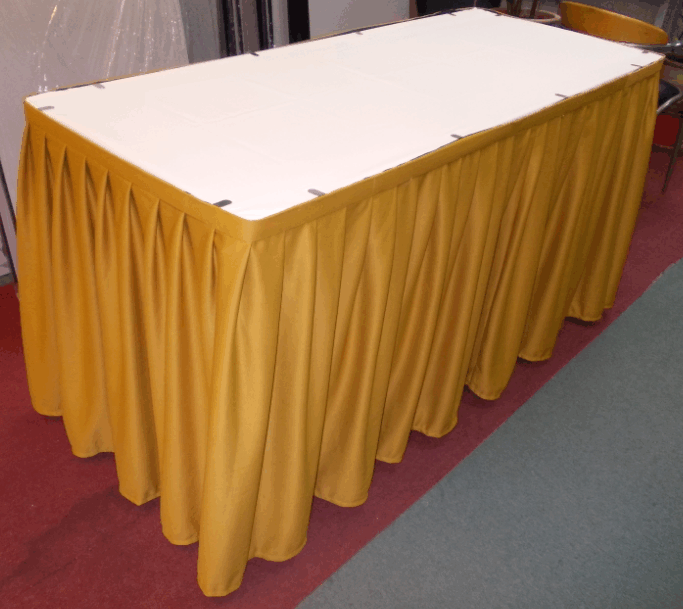 A Box Pleat Table Skirts is the best choice for a luxurious look for most events like professional meetings and business conferences due to its sequence of back-to-back knife pleats. It will give an elegant look, neat and tailored appearance. It is made with 4" wide for each pleat, a "boxed" look with more of a crisp, defined edge.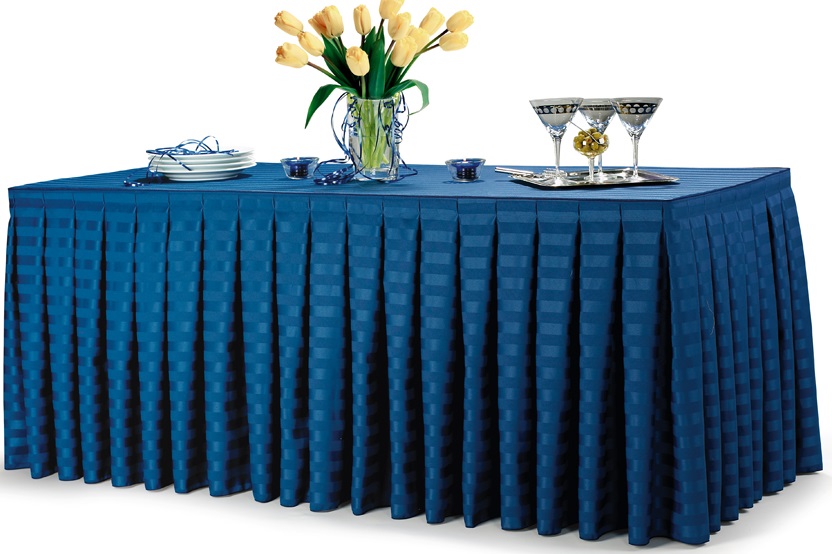 Table skirting with French box pleats provides even more volume than standard box pleats. French pleats are narrower than regular box pleats, giving the bottom of the table skirting a fuller appearance. French box pleats work equally well in casual or elegant settings.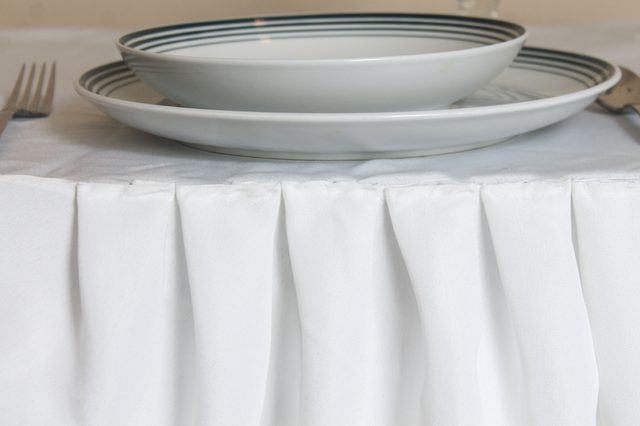 Plastic Table Skirts are a less expensive and easy cleanup. It is made with vinyl fabric featured with simple gathers or knife pleats, which is suitable for any occasion.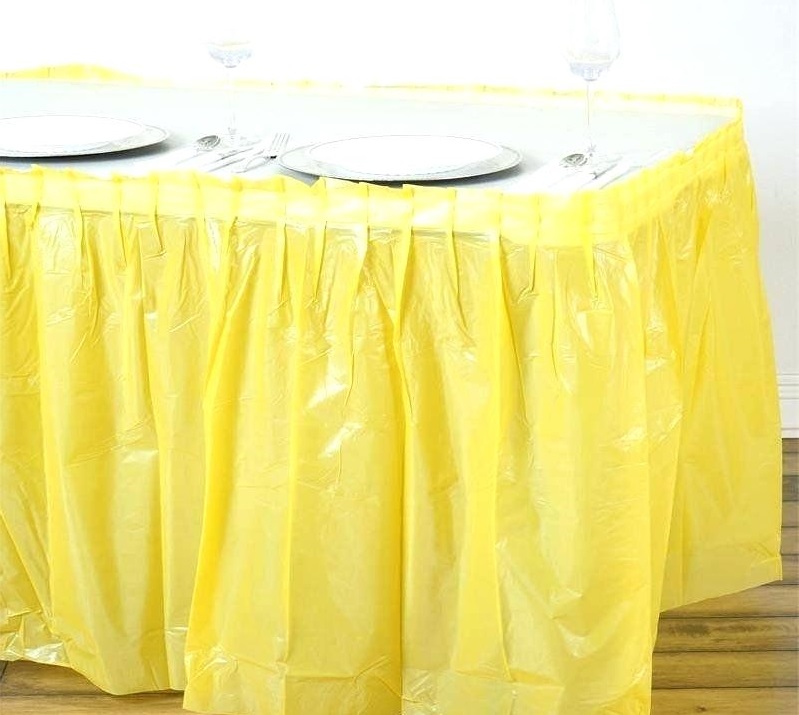 Fringe Table Skirts are the addition to the parties. There are various fringe skirts like Metallic, Tissue and Raffia that contain a number of decorative uses. This type of table skirt will create a festival with a special memory.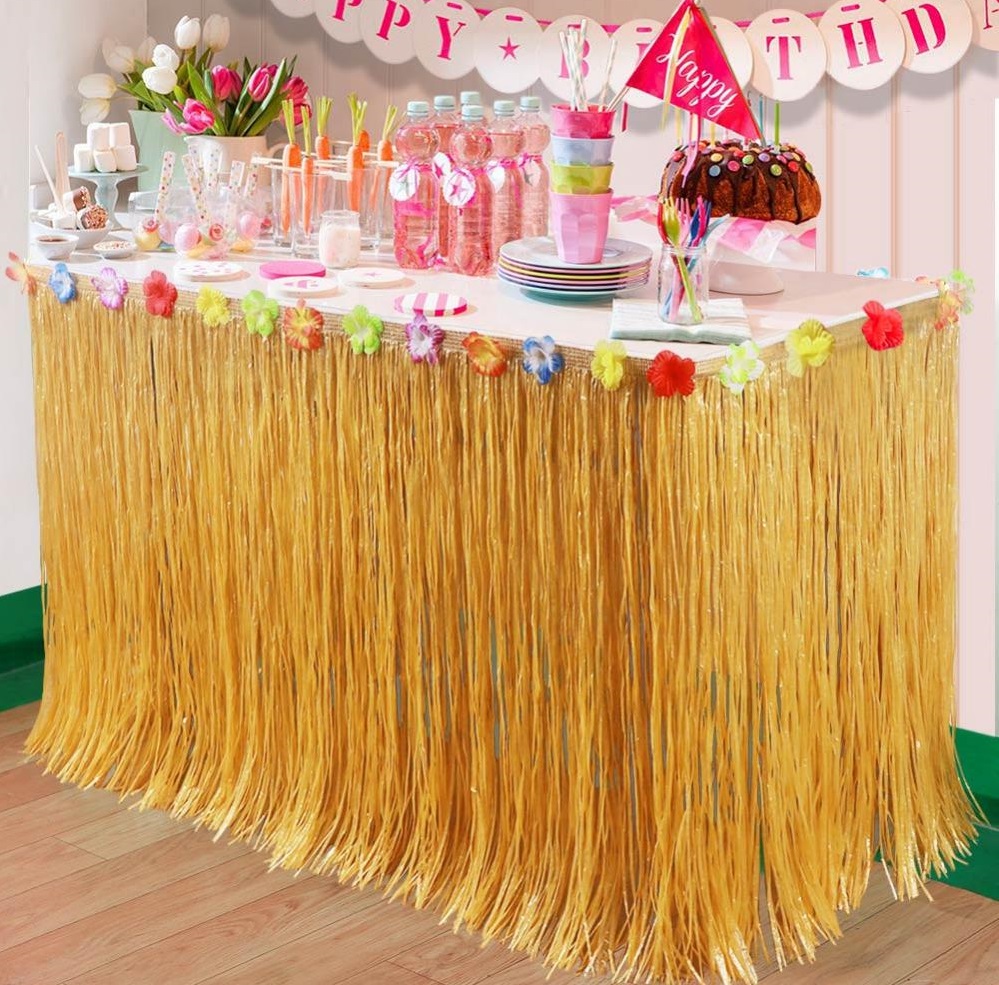 Swag is usually attached to the plain table skirts pleating which will not flatten or damage the fabric. Swag a tablecloth can apply it to a wedding reception, bridal shower, baby shower, birthday party, etc.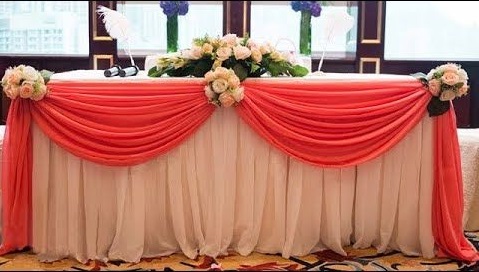 Table Skirts sizes for your Table:
Before choosing the Table Skirts, Finalize the number of sides you are going to cover the table (either 3 or 4 sides). There are two types of tables as Standard Height Tables and Custom Height and Length Tables.
The Standard Height Tables come with 29" height. The Table Skirts length suitable for this is 14′ long, 18′, or 22′.

Custom Height and Length Tables are not the standard 30" tall. The Table Skirts length suitable for these tables are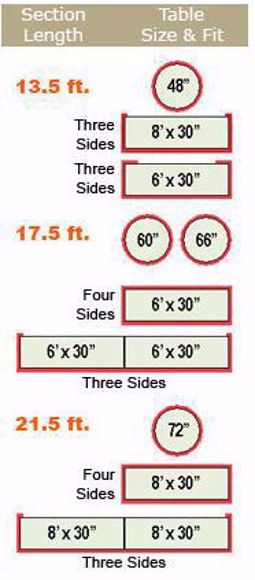 Durable, Wrinkle, Stain Resistant Table Skirts have Velcro® on Back Side for Easy Attachment using Table Skirt Clips and are also available in various qualities like Basic Polyester (74 colors), Spun Polyester (37 colors), and Poly Stripe (33 colors) for Standard height table and Custom height and length table in Shirred and Box Pleated Styles.
Table Skirts Clips:
Select the table skirts clip based on the thickness of your table. The varieties of clips are standard Clips (3/4" – 1"), Multi Clips (1" – 2"), Super Clips (1-1/2" - 2-1/2"), Valance Clips, etc.

HY Supplies Inc. provides an endless collection of Standard Height Table Skirts and Custom Height and Length Table Skirts along with Table Skirts Clips.