Why it's better to rent Table linen for your special occasion?
Saturday, September 4, 2021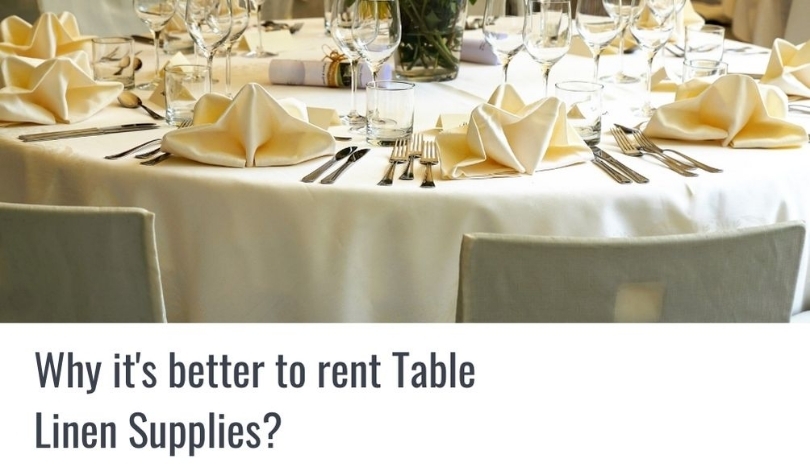 The Tablecloth is playing a massive part in enhancing the aesthetic look of an event. If you are an event planner or arrange an event to celebrate a special occasion, you must be aware of the importance of the Tablecloth.
In terms of aesthetic value and functional value, Tablecloth protects the tables from stains & liquid spills.
In the tablecloth selection, the very first question that arises to mind is
"Should I rent or buy a tablecloth?"
This blog is going to clear your doubt by stating the good vital points in renting tablecloths.
Doorstep Service:
Doorstep service is the primary key benefit of table linen rental. You don't need to roam around the town to get a specific color/pattern tablecloth that fits your event theme. Instead of that, you could find a table linen rental service provider through internet surfing. Renting a Tablecloth consumes lesser time than the early choice. In this case, you must convey table décor ideas to your rental service team in an organized way. Service people will deliver table linen supplies to your doorstep to meet up of all requirements. Table linen rental service relieves you from the burden of transporting tablecloth supplies from the store.
Same Price for all Fabrics:
As we know, there are vast fabric choices in the tablecloth selection. Cotton, Polyester, Damask, Burlap, Satin, Linen, Organza & Silk are among them. If you decide to purchase a tablecloth, you have to spend more based on the quality & fabric of the Tablecloth. But in the rental service, you can hire all kinds of fabrics for the same price. You don't need to compromise the quality of the fabric in the tablecloth rental. Rent a high-quality Tablecloth, which is suitable for the event's ambiance.
For extensive party prep:
If you plan the party for less number of guests, you could accommodate them in a lesser number of tables. In that case, buying a tablecloth would suffice, and your budget covers it. The requirement for tablecloths is higher for large parties, trade shows, and conferences. At that moment, hiring Tablecloth would be a clever choice, and it saves your time and money. When the party is over rental service, and collect table linen supplies, you don't need to worry about laundering & storing tablecloths.
Critical Points in table linen Rental:
When you reach out to the rental service, state the following requirements clearly to them.
In how many tables you are going to accommodate your guests?
What is the size and shape of the Tables?
Colors of the Tablecloth that reflect your event's theme.
Share your table linen rental experience with us in the comments!!