What kind of Bedspreads for Airbnb is appropriate for keeping a Bed Perfect?
Tuesday, December 6, 2022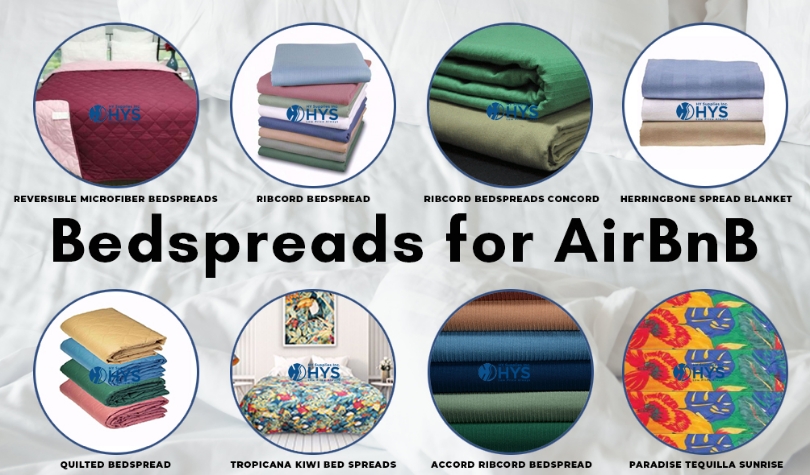 Many interior designers suggest their clients should use bedspreads for Airbnb to build a better ambiance in a bedroom! Bedspreads are single-layer and lightweight pieces of bedding! These are among the essentials that every Airbnb and VRBO host and manager should consider. Either it is for premium accommodation or a private short-term stay.
It could also impress the guests if they choose Airbnb renting space for an overnight or one-day stay. The purpose is to give Airbnb or VRBO clients the best experience while serving them.
Airbnb managers must also help suggest the best bedspreads for home/property owners. The ultimate goal is to help improve their business profile. However, many Airbnb hosts or managers do not pay keen attention to using Bedspreads to serve their clients.
Bedspreads serve three primary purposes for their users! It acts as a cover for the whole bed, adds to the beauty of the bedroom, and offers a feeling of warmth when someone is lying on them. Experts suggest lightweight options as the best bedspreads for VRBO & Airbnb hosting needs.
Why should you consider Lightweight Bedspreads for Airbnb?
Handy Bedspreads are highly useful in hotel or guest rooms. The following points will help you buy Airbnb bedspreads of the best quality;
- A good combination of Airbnb Blanket, Bedsheet, and Bedspread can offer much snugness and warmth to a user.
- One can use them during every season of the year with underlying beddings.
- Bedspreads do not demand frequent cleaning cycles! You can spot-clean them using a few measures or machine washed at least twice a year.
- We can also take it as a cover to keep our bed neat and clean when not in use. So, using the bedspreads properly can also lessen the cleaning cycles of bedsheets, pillow covers, and mattresses.
- They are available in the market in different sizes that can help one cover the whole bed with the sides.
- You can use Bedspreads to form a tempting aesthetic theme to lure your Airbnb tenants. It is possible by creating a great match of bedding with the furniture or wall colors.
- Airbnb hosts can keep a set including different colors of bedspreads that can match their client's preference.
One important thing to consider here is that they should not be Allergic (that can harm our skin). It can help VRRBO and Airbnb managers or hosts avoid giving any bad experiences to their end-users!
Final Thoughts
Most people do not attract by fancy words in property listings on Airbnb and VRBO. They better read the descriptions throughout to find the convenience factors while staying in a rented property. So, using the finest microfiber bedspreads for Airbnb guests in the list of your offerings would matter a lot for your business!
The common bedspread materials include Polyester, Chenille, Cotton, and Wool. So, you can find Airbnb bedspreads wholesale made of different materials suitable to meet the various needs of their users. The material that you choose straight reflects the level of comfort it offers.
Unlike bedsheets, you do not need to change them daily since they can stay good to use even for a week or two, as per the use conditions. So, you do not need to dig into the deeper details or technicalities of the bedspreads to find the best option.
Better explore the tried & tested choices of the best bedspread for Airbnb online that matches the need of Airbnb hosts. You can buy them of the finest quality at reasonable rates within a few clicks via HY Supplies. You will experience better convenience via doorstep delivery and all-time customer support!