How Do I Pick the Ideal Shower Curtain for a Medical Facility?
Saturday, December 24, 2022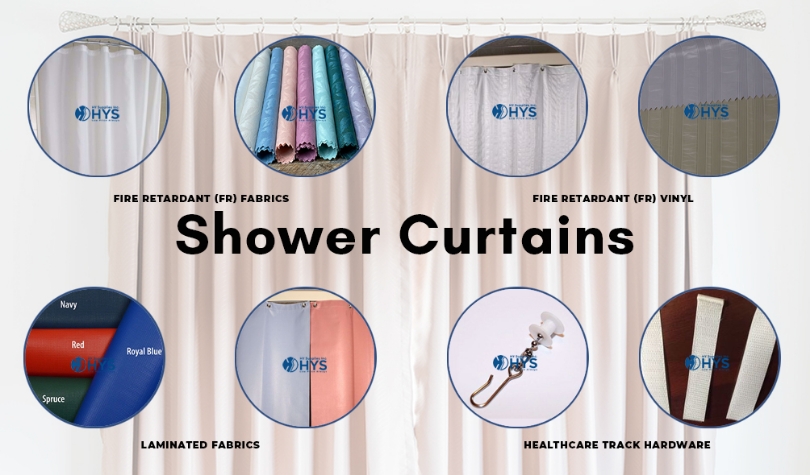 Shower Curtains at medical facilities provide more than simply an aesthetic purpose. They are also necessary for privacy, health, and fire protection. Many distinct elements must be incorporated inside a single cloth for medical shower curtains.
As a result, there are certain key aspects to consider while purchasing these shower curtains. It is critical to remember that any medical shower curtain will most likely be used frequently by various persons. They are also likely to become fluid and discolored landing zones.
To be successful, a ceiling-mounted medical shower curtain must be resistant to stains and possibly contagious fluids. When choosing a medical shower curtain, check for the following features to get started on the correct path.
Fabric Type
The fabric used in healthcare facilities must be robust and long-lasting. Medical drapes hanging on ceiling-mounted tracks are used in most hospitals and clinics. They act as a divider to provide patients with privacy while receiving therapy.
As a result, your fabric shower curtains wholesale will be heavily used regularly. To stay up, your cloth must be tough and long-lasting. Furthermore, the fabric you select should be allergen-resistant and heavy metals-free.
A hypoallergenic fabric is crucial for your patients' wellness. As a result, the material should not serve as a breeding environment for typical allergies like mold, dirt, or pollen. Thin, strong materials are preferable to thick, absorbent curtains and bulk shower curtain linens which are more prone to store germs and allergies.
The cloth should also be aesthetically pleasing and suitable for your interior design. Consider textiles that are simple to personalize and will provide the standard length of the shower curtain and vitality to your healthcare institution.
Antimicrobial
Another critical attribute to look for in your shower curtains is anti-bacterial resistance. They may become a breeding ground for bacteria if you do not choose the correct fabric. As a result, your medical shower curtain should be antibacterial.
Antimicrobial treatment on high-quality medical shower curtains works around the clock to eradicate germs, viruses, and fungi. By destroying germs on touch, patients and medical workers will be less likely to spread bacteria during treatment.
The antimicrobial finish will differ depending on the type of shower curtain you choose. Ensure the finishing is powerful enough to kill as many bacteria as possible.
Fire-Retardant Fabric
Choosing a fire-retardant fabric may lessen the chance of small fires spreading quickly and inflicting significant damage to your home. Consider putting a row of mesh at the top of each ceiling-mounted curtain track and fire retardant shower curtains fabric.
This configuration allows your sprinklers to activate and extinguish a fire in its early stages. Stain resistance is another crucial characteristic of your medical shower curtain. Stains may include germs, viruses, or fungi that harm the patient's health.
As a result, the cloth you select should be thin and smooth on the outside. Your fabric's smooth surface resists stains and allows the curtain to work effectively as a washable material.
Window Attachment and Shower Curtain Length
You should also evaluate how long each ceiling-mounted medical curtain should be. The longest shower curtains for hospital cubicles give seclusion while being hung a suitable distance from the ground.
The cloth should not be dragged on the floor since it will acquire dirt and bacteria over time. Look for drapery that is high enough to hide people's heads (so they don't peek into the next cubicle) but low enough to prevent dragging. Another thing to consider is how the drapery is mounted.
Ceiling-mounted tracks are an excellent choice for medical institutions. They are simple to install and may be utilized in various room configurations. Check that your medical drapes may be attached to ceiling-mounted tracks for easy opening and shutting.
Easy Cleaning
Each medical shower curtain should also be simple and easy to clean. This is consistent with stain resistance since your cleaning team should be able to regularly wipe down and disinfect any drapes.
For a more comprehensive cleansing procedure, the cloth should also be easy to clean in place and machine washable. Machine-washable medical shower curtains are easier to care for than dry-clean-only textiles.
Some best curtains for hospital showers are also resistant to odors. You may choose hygienic, long-lasting, and safe items for your medical institution by utilizing the attributes above as a reference. It all boils down to selecting a fabric that fits all criteria for a clean and safe medical cubicle.
These characteristics include antibacterial qualities, fire resistance, stain resistance, correct length, and washing ease.
Conclusion
Fire Retardant Shower Curtains are the best option if you seek medical drapes. Fire Retardant is a leading provider of high-quality shower curtain textiles to various medical facilities, including hospitals, clinics, and doctor's offices.
Get in touch with fire retardant immediately if you need ceiling-mounted hospital privacy curtain medical showers that are dependable and high-quality.