4 Essential Products for Nail & Tanning Salon
Thursday, March 24, 2022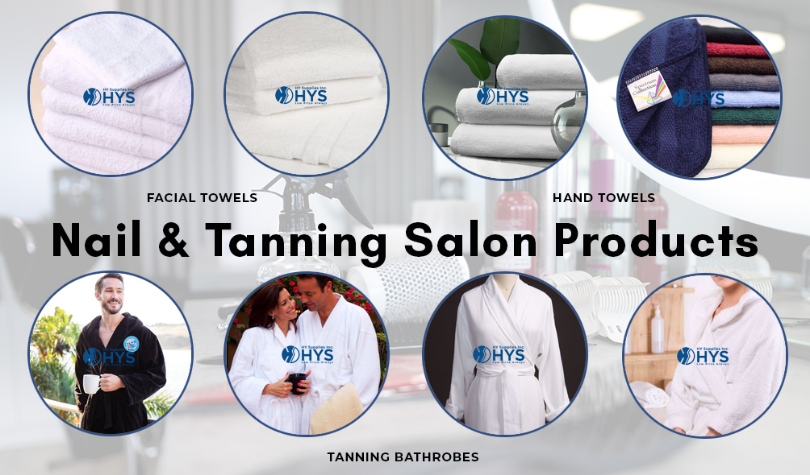 Are you a salon professional with a passion for nails or tanning? Do you want to ensure that your customers' experience is the best it can be? We've put together a list of the 4 essential nail & tanning salon products that everyone should have to create your salon product lines.
1. Nail Polish
This is the most common product that a salon has in stock. Nail polish comes in so many different varieties that you can cater to almost any customer. From opaque for the everyday look to neon and glitter for a fun night out, your customers can find exactly what they want from you. Moreover, nail salon towels are necessary to maintain your salon's hygiene.
2. Manicure/ Pedicure Tools
While nail polish is trendy within the salon, it's virtually useless without pedicure tools. There are many different ways to shape a customer's nails, from filing to sculpting and more. The client wants their nails to look as good as on magazine covers. With an add-on of manicure pedicure towels, having the best nail treatment experience is guaranteed.
3. Tanning Products
Of course, a nail salon without tanning products is like an ice cream parlor without ice cream. Customers want to have that perfect tan before they walk out the door. Because there are different types of tanning products in the market, you can provide your customers with various options. Also, you can use the best bed sheets on the market to make your customers feel comfortable and relaxed during their tan. Facial towels for estheticians are also a great addition to your product line.
4. Oils and Lotions
Whether it's nail work or tanning, customers want to feel pampered and cared for during their salon experience. You'll need to select different oils and lotions in stock. Your customers love taking care of their hands and feet, from scented oils to hydrating lotions. It's an excellent way to build up your customer loyalty and keep them coming back for more. Moreover, bathrobes for spas are a must to provide your customers with an even more upscale salon experience.
To sum up, we've gone over four products that help you create a salon product line that is the best that it can be. From nail polish and manicure pedicure tools to tanning products and oils and lotions, you'll have everything you need for your customers to have a great experience. These products are essential for your salon if you want to ensure that your customers are cared for in every way possible. Thus, it is necessary to provide the best care for our clients to keep coming back.