Which Women's Medical Scrubs are the Best? Types of women medical scrubs
Friday, November 18, 2022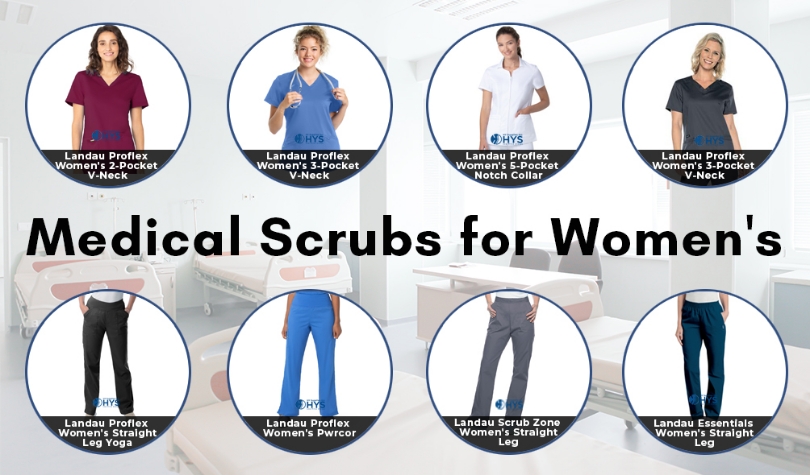 Nurses, doctors, technicians, or any women in the healthcare field need apparel that moves with them and keeps them comfortable even during long shifts. It is also important to find scrubs for women that are durable and easy to clean.
A scrub is a sanitary garment worn by physicians, nurses, dentists, and other healthcare workers. Hospital employees wear them when sterilizing themselves, or "scrubbing in", before surgery, originally designed for surgeons and other operating room personnel.
Medical scrubs for women differ from other types of scrubs because the silhouettes are cut differently for ladies around the waist. These scrubs are designed to suit female nurses with feminine colors, large pockets, and a flattering fit. The flare-leg scrub pants appear more professional and sophisticated because they are more fitted and less baggy. These pants are more flexible and comfortable to withstand long shifts and difficult situations.
Types of women's medical scrubs:
Surgical scrubs
Surgical scrubs are specifically designed for women doctors' surgeries within the operating rooms. Because surgeons are often in direct contact with chemicals and fluids during their operations, surgical scrubs are supposed to be sterilized and made of disposable clothing. The surgical uniform consists of a women's v-neck 4 pocket solid scrub top, scrub pants, and a disposable gown to be worn over the scrubs.
Nursing scrubs
Nurses usually assist with the patient's mobility, cleaning, medicine administration, and facilitating aid in other emergencies. Today's nurse scrubs allow nurses to move comfortably and freely, unlike the starchy, white nurse uniforms of the early and mid-1900s. The nurse scrubs are comprised of a scrub top with scrub pants. While the style of scrubs for men and women is similar, their fit may differ depending on your body shape. Many unisex options serve the same purpose, and they can be extremely comfortable, flexible, and relaxed. All scrubs have been designed to be functional and can perform well in busy, fast-paced environments that require constant movement and activity.
Lab Coats
One of the other types of medical scrubs available in the market, Lab coats or white coats is the traditional medical practitioner's outfit. For medical technicians and health personnel who handle chemicals and bodily fluids daily (urine and blood, stool, etc.), this is the ideal outfit. This is an additional piece of clothing, like a jacket, aside from the standard scrubs. The lab coat is a classic piece that doctors can wear over a set of scrubs or professional wear. These coats are great for protecting skin from spills and drops, especially on the arms if you prefer the full-sleeved lab coats. These lab coats are easy to clean and stain-proof, made from polyester or polypropylene. They're breathable fabrics with an antimicrobial finish. They can also be removed easily in the event of a chemical emergency to provide natural hazard containment. To avoid cross-contamination, infections, and the spread of bacteria, these scrubs should be kept in the lab or workplace.