What are the advantages of using towels in barbershops?
Saturday, March 18, 2023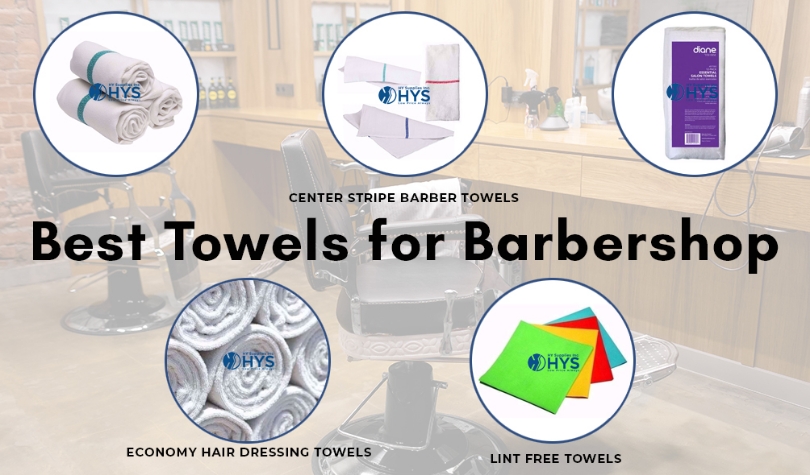 The following discussion suggests the advantages of towels in barber shops,
The primary purpose of a towel is to keep the client dry and clean in a barbershop. In addition, it improves the appearance of the barbershop and makes the clients feel soft and comfortable each time it is used for their haircutting and shaving.
Barber towels absorb moisture, giving the cotton a warmth and dampness that calms the face and stimulates the pores to the point where the skin is prepared for a smooth, close shave. Water will primarily slide off the towel's surface if it lacks absorbency.
To improve circulation, men might feel less stressed and more relaxed by rubbing and applying a hot towel to their faces before and during their shaves. Moreover, it promotes stronger hair growth. The skin's pores are opened by the steam from a heated towel, which also makes the skin softer and smoother than before.
Wholesale barbershop towels purchase is a better option because more and more men decide to have barbers style their hair and trim their beards, and barbershops see a cultural resurrection.
Barbers, some of whom are becoming celebrities in their own right, are trusted by actors, athletes, and musicians to care for their hair. But, this frequent attention is not a recent development.
Barbering has a rich history that dates back to the time of the ancient Egyptians, and it is safe to say that it will stay in vogue for a while. Is your barbershop outfitted to deliver top-notch service? Avail your barbershop with a distinct range of barber towels by purchasing from wholesale dealers.
A hot towel for barbershops plays a major role in opening the pores because you splash hot water on your face before shaving at home. It is essential for a safe and healthy shave. More of our hair follicles can be seen once the pores are opened. Due to this, razor burns while enabling a closer shave. Instead of the skin remaining stiff, unyielding, and rigid, think of it as a relaxant that will make it more receptive to the razor's edge.
Before shaving, customers should relax their hair, and this technique achieves just that. Booth observes that the razor produces significantly less drag and considerably easier cutting of relaxed, softened hair; it avoids aggressive struggle on your face by widening the pores, which enables skin oil to penetrate the hair follicles, further softening and nourishing them.
Barbers can enjoy all those benefits for their clients with the best shaving towels must be used; they can also be used as hand towels. Before purchasing, check whether the shaving towels from the best collection are all made of cotton, so they are soft yet durable.
As barbershop proprietors, everyone is interested in cutting short their lump sum amount to purchase the necessary towel requirements for their shop. If so, ordering barber towels bulk in quantities will offer you a better advantage than purchasing the products in limited quantities.
A wiper that doesn't leave behind tiny, short fibers after wiping is said to be lint-free cleaning towels. Little or no lint is crucial for cleaning activities in food production, spray painting, pharmaceutical manufacturing, and other industries. Its features include quick drying, good absorbent nature, and a lightweight combo.