How and where to Select the Best Linen for Restaurants?
Thursday, March 9, 2023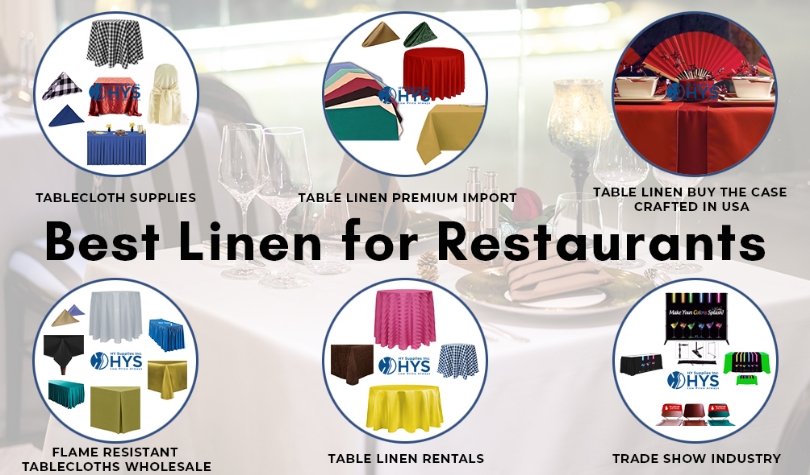 Do you operate a more formal restaurant or a more laid-back cafe? The color schemes you choose for your linens might influence your mood and ambiance. You can experiment with colors and patterns if you're more laid back. Additionally, the tablecloths can vary depending on the cuisine. Do you own a restaurant that uses only locally farmed food? Consider using earth tones like blues, tans, and greens. The mood of the restaurant is established by these cool, modern colors.
Try using tablecloths that are bright white if you want to create a more up-marketing atmosphere. Choose colored napkins to add a splash of color to your arrangement. Red or black napkins will add an air of elegance and provide a striking contrast.
Whether it's through color, material preference, or cleanliness, your tablecloths can influence your clients in the same way. Despite the fact that you may serve the best food in town, guests might not even give you a chance if your table linens are unappealing. Let's discuss a few of the crucial factors to make sure that your restaurant's linens are creating the finest possible first impression.
Keep In Shape
It's easy to figure out this one in a flash. No matter if your table is square, rectangular, or round, your tablecloths should fit its shape. By doing this, you can be confident that the cloth will lay flat and cover the table's surface in a problem-free manner.
We have noticed that when people are in need of the best shape, they find it harder to get the best tablecloth for restaurants and tablecloth rental for wedding suites. This, we will talk about, where to get that bulk restaurant work wear and Wholesale Table Linens Supplies.
Size Matters
This stage requires the use of a tape measure. The size of your rectangular or square table should be measured, as well as its length. Now measure the distance between the edge of the table and the tops of your thighs while seated in one of the chairs. The measurements you took all the way around the table will be added to this distance to get your final size. If you would prefer a longer drop for your cloth, perhaps to reach the floor for a more formal impression, simply measure from the table edge to the floor.
Material Makes a Difference
For your tablecloths and restaurant kitchen towels, pick a material that complements the ambiance of your establishment and the amount of upkeep you're willing to give your linens. Don't forget that fabrics with a lower thread count are more resistant to damage and are therefore a better choice. Cotton tablecloths are a fantastic choice for informal dining or the do-it-yourself laundry method because they are affordable, machine washable, breathable, and available in a range of colors. Your tablecloths will survive because cotton is a material that is incredibly resilient. Linen can also be the best fit for uniforms for chefs.
Give HY Supplies Inc. Linen a call today for assistance in selecting the ideal table linens for your restaurant
HY Supplies understands the value of selecting the best table linens, offering wholesale Table Linens Supplies to tablecloth rental for wedding and restaurant kitchen towels. You want your restaurant's linens to be easy and affordable to maintain while keeping blending in with the overall aesthetic in terms of both color and material. HY Supplies Linen steps in to help with that. Our extensive selection of tablecloths and napkins is complemented by our expert healthcare, sports and fitness, and salon supply services.
Additionally, we produce bulk restaurant work wear and uniforms for chefs.