How do you choose bed sheets for hotels and things to consider before buying sheets?
Tuesday, April 4, 2023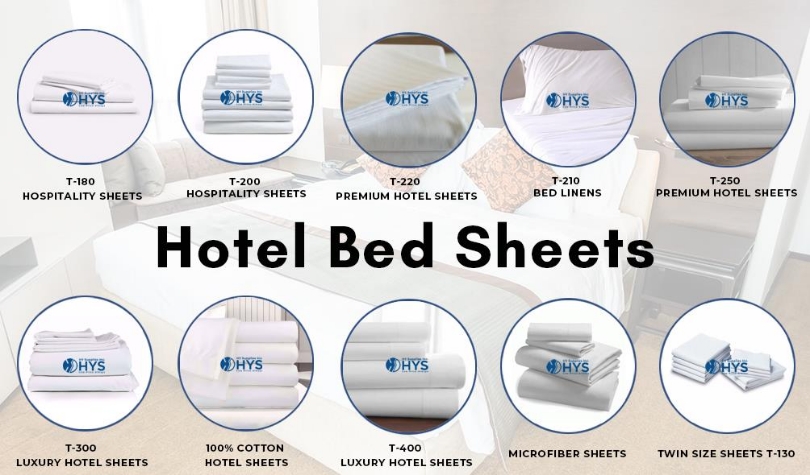 Why do we need bed sheets?
Bed linens can keep you warm in the winter and cool in the summer. The ability of bed sheets to control body temperature is one of their most crucial features. By wicking away sweat and enabling air to circulate, bedding made of natural fabrics, like linen, can keep you cool throughout the summer.
Ordering hotel bed sheets bulk is due to the following parameters, They are
materials
Quality of thread count
Selection of the bed sheets is based on the material
With the cotton's breathability and softness, you can stay cool in the summer and warm in the winter. While cost-effective and wrinkle-free, cotton polyester is less stylish than pure cotton. Linen is the best option in the summer because it has a better cooling effect and absorbs body heat.
Selection of bed sheets based on the thread count
Verify the thread count before purchasing because most hotels use cotton bed linens. The best thread count for sheets should be one of many factors to consider while looking for hotel-style linens, as was previously said, but keep it in mind when searching. 300 to 500 is the sweet spot for sumptuous, long-lasting cotton thread bedding.
In general, the quality of the sheets increases with thread count. Basic or normal cotton has a thread count of about 150; high-quality and 180 thread count hotel sheets will be stronger, increasing bed sheets' life span.
The necessity of microfiber sheets
Sheets made of microfiber are a wonderful option for those with sensitive skin. You won't wake up itching or irritated because of the delicate texture of the microfiber cloth on your skin. Also, microfiber sheets are supposed to keep you warm in the winter and cool in the summer. The 100% brushed micro polyester fabric creates microfiber bed sheets wholesale products.
Unlike most cleaning cloths, which are made of cotton, microfiber cloths are constructed of polyester and nylon. The main benefit, in this case, is that the fibers have been divided into fragments more than 100 times smaller than a human hair, increasing the volume of fibers that come into contact with a surface and making microfiber substantially more absorbent. Also, the inherent static charge built up in microfiber attracts dust particles and makes them stick to the fabric.
Microfiber sheets provide incredibly soft pleasure and long-lasting durability.T-180 Hospitality sheets, T-200 Hospitality sheets, T-250 premium hotel sheets, T-300 luxury hotel sheets, Pull, Flat, Fitted type form bed Sheets and Pillowcases bulk are all available from our product collection at affordable prices for hotels and motels.