Guide on How to Select a Perfect Pillow for your Night Sleep at the Wholesale Price
Wednesday, April 21, 2021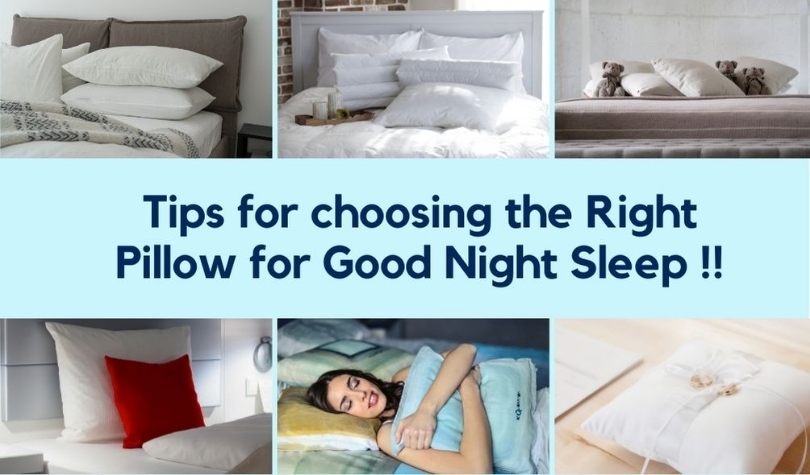 Do you have a doubt, Is the Pillow is as essential as a mattress for your sleep? My answer is YES, to get a good night's sleep with the proper posture, with the alignment of head, neck, and rest of the body.
Wholesale Pillows are equally crucial, like Hospital Mattress for better sleep. Mattresses help ease pressure point and balance the sleep position; Likewise, Quality Pillows does the same for the upper body parts. To know which kind of Healthcare Pillows are helpful for Patients, then this article can help you better.
Choosing a suitable pillow is very important for Healthcare Industry. There is no such thing as a one-size-fits-all pillow size, shape, or material when selecting the right pillow. The best way to find the right pillow for you is first to identify the Hospital patient's needs which is more comfortable and appropriate for them.
Here are the various elements to check before selecting the suitable Pillows,
Types of Fill: Down: These pillows are light and soft—if you prefer a peaceful place to rest your head at night, a down pillow may be for you. Down pillows are typically made from goose or duck feathers and more expensive. Synthetic down and Polyester pillows are cheaper than natural, hypoallergenic down pillows, but they must be replaced more frequently. Polyester fill pillows are a low-cost pillow option when compared to other pillow types. There are different types of fills like Wool, Cotton, Latex, and Memory Foam.
Weight of the Fill: Latex and Memory Foam are heavier compared to Down and Synthetic Pillows. Lighter Pillows are comfortable when you move or reshape the pillow during sleep.
Quality of Fill: For better comfort, support, and longevity, the Quality of Fill plays a vital role. Get the best quality pillows at your budget instead of replacing the pillows for 'n' times in your lifetime.
Size: There are various Pillow Sizes available, such as Standard, Large Size Pillows, Thick and Thinness Pillows, etc.
Fabric: Natural and Breathable Fabric is best for Pillows.
Different Kinds of Healthcare Pillows:
Disposable / Economy Pillows (Price/12 Pcs)

Color: White

Size Available: 20" x 26" - 18 oz, 19" x 25" - 16 oz

Type: Microscopic Air Vents, Antibacterial, and Anti-static Flame retardant

Product Description:

Designed for ER or OR and outpatient facilities

Non-woven ticking with 100% polyester fiberfill

Synthetic Fiber Non-Woven

Knitted in Natural Non-Compressed State.

Color is White

Premium Oxford Pillow W/ Microgel (Price/Each)

Color: White

Size Available: Standard, Queen & King

Type: Cored Piped Edges With Micro Denier Polyester - Gives The Pillow all the Characteristics of Down With T233 Cotton Pillow Ticking

Staph Check Pillows (Sold in Pcs)

Color: White

Size Available:20" x 26" - 18 oz, 19" x 25" - 16 oz

Type: Microscopic air vents, Antibacterial, Anti-static Flame retardant

Product Description:

Microscopic air vents

Antibacterial

Anti-static

Flame retardant

Fluid proof

Standard Color is White, and it's also available in Blue (particular order)

Fossfill - Healthcare (Price/12 Pcs)

Color: White

Size: 20" x 26" - 23 oz, Type: 70 Denier Urethane Coated

Product Description:

Our Most Down-like Soft Fill

70 Denier Urethane Coated

Wipe clean/no machine

Color is White

Positioning Pillows (Sold in 4 Pcs/Case)

Fabric: Vinyl,

Sizes: 17"x 10"x 2.5", 18" x 11" x 3.5", 24" x 18" x 4.5"

Product Description:

Therapeutic pillows off-load heels and redistribute pressure along the calf

The unique design helps maintain shape while keeping the legs adequately positioned.

Choose from a variety of sizes and fabrics to suit your needs.

Oxford Gold Pillows W/ Synthetic Down (Price/Each)

Color: White,

Type: Hypo-Allergenic Siliconized Fiberfill, Extra Hollow Siliconized Fiberfill, A Washable Pillow Tuxedo Stripe Ticking

Product Descriptions:

Oxford Gold King of Hotel Pillows with Synthetic Down and Hypoallergenic Siliconized Fiberfill.

White Economy Pillow

Synthetic Down Pillow

Extra Hollow Siliconized Fiberfill

Washable Economy Pillow

Tuxedo Striping

Hypoallergenic