Chef Aprons and its different styles
Tuesday, March 23, 2021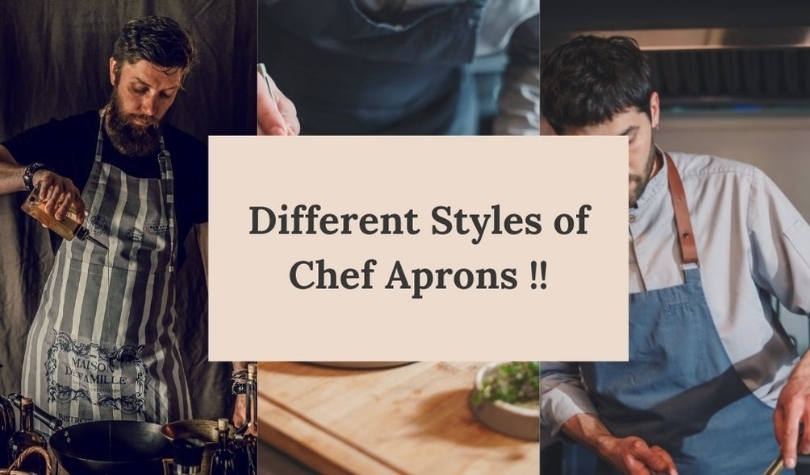 Aprons
Chef Aprons are workwear clothing /apparel that prevents spills and stains and keeps your employees looking crisp and uniform with a restaurant. Whether you are looking for the best chef apron or a professionally color-coded attire for your staff, there are different styles of aprons in a multitude of benefits for kitchens and restaurants everywhere.
Types of Aprons
Choosing the best aprons for your business depends on their intended usage. The length, coverage, and material of the apron help us to determine the usage.
Server Aprons and Waist Aprons
This type of server and waist aprons do not provide coverage to the upper body. The length of this apron is short hence it provides the most comfort for servers walking throughout your facility. Almost all the waist aprons include pockets so your waiter/staff can have pens, guest checks, and beverage straws close at hand. It is ideal for Bussers, Head waitresses or waiters, and Front house servers.
4-Way Aprons
This 4-Layer waist apron is the perfect choice for staff, who needs to use their apron multiple times before they can wash it. When the outer layer of the apron gets stained, the wearer can simply switch it around to the next clean surface. This waist apron helps to save laundering costs since your staff won't need to change aprons quite as often. It is ideal for chefs and back-of-house kitchen staff.
Similar to the waist aprons and 4-way aprons, bistro aprons do not provide upper body coverage. One major difference is, this is a long apron and provides more coverage for pants. Most waist aprons include pockets so your waiter/staff can have pens, guest checks, and beverage straws close at hand. It is ideal for the front-house staff. As it has a long length, it protects pants from stains making them great for completing messy jobs like wiping down tables.
This traditional-style apron ties around the back of the waist and have a loose neck loop. These full-cover bib aprons are available with pockets to let the staff carry order-pads, guest-checks, thermometers, or other handy kitchen utensils with them as they are working. It is ideal for staff who work in the kitchen, as it provides space for chefs and servers to wipe their hands and offer full-body coverage that protects staff from spills and backsplash.
Tuxedo Aprons
It is a distinctive style of the apron which is a more upscale version of the standard bib apron. It is perfect for pairing with a white button-down shirt and bow-tie for a crisp, clean look. It is ideal for Front-of-the-house restaurant waiters and waitresses since it helps to enhance the image of your elegant dining area and great for banquets and catered events.
Cobbler Aprons
It is also known as smock aprons, cobbler aprons that offer both front and back coverage. It has adjustable side ties, so you can make the apron more snug or loose. They are great for keeping employees' shirts clean underneath, but they end around the waist or mid-thigh. It is ideal for Bakeries, Schools, Hospitals, and Housekeeping.
Dishwasher Aprons
The dishwasher aprons are available in full-length designs that extend past the knees. It is especially helpful for the dish room, as your staff is more prone to encounter large splashes as it has waterproof properties. It is made of water-resistant materials and some are heat-resistant, fire retardant, and cut-resistant. It protects clothing and skin when exposed to build-up on pots, equipment dirt and debris, grease, and chemicals. It is ideal for dishwashers to stay dry as they clean high volumes of dishes in your restaurant, hotel, cafeteria, or assisted living community.
Disposable Aprons
The disposable aprons come with a full-length design that ties around the back of the waist. The one piece-design easily fits around the neck. It is ideal for Dishwashers, Bussers, the one who cleans harsh chemicals, the one who slices deli products, and for the one who works with raw meat and fish.