During Covid – 19 Pandemic Situations, Are your Healthcare Professionals are Protected?
Thursday, April 9, 2020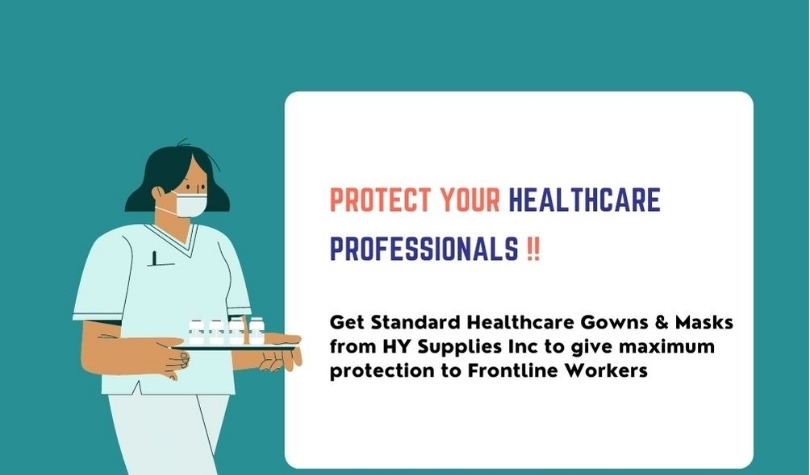 Healthcare Industries is one of the fastest-growing sectors in the world, employing millions of professionals to take care of infected and injured patients. The regularity of infectious diseases such as Hepatitis B, Hepatitis C, HIV, Scars, Ebola, and Coronavirus has raised the concern of hospital workers over the possibility of acquiring such diseases.
Doctors are the frontline fighter who gets affected easily from patients, body fluids, specimens, etc… in and around hospitals. To safeguard them from infectious hazards, PPE (Personal Protective Equipment) such as gowns, respirators, face masks, gloves, eye protection, face shields, and head and shoe coverings play a major role. Even though it is highly protective, proper maintenance of clothing after use or disposal at the correct time will reduce the considerable risk for health.
HY Supplies Inc. is happy to serve you by understanding the proper use and requirements of Protective Healthcare Gowns to Hospital Doctors during this time of uncertainty.
With the recent importance of COVID -19 into the world, we have been interested in the proper supply of Personal Protective Equipment's like Surgical Gowns, Isolation Gowns, Patient Gowns, Fenestrated Drapes, Bed Linens, etc… to the Healthcare Professionals.
In this article, we are going to discuss the kind of Protective / Isolation Gowns are required for Healthcare Professionals.
Originally, Isolation Gowns are mainly used as a cover in handling isolation cases to protect Doctors from microorganisms. Old pattern Isolation Gowns are less protective due to the absorption of fluids and frequent washing of the materials leads to fabric deterioration. Its main functionality is to cover arms and exposed body areas during patient care activities from anticipating clothing, blood, bodily fluids, etc… Moreover, Isolation Gowns are made from 100% Cotton and 50/50 Cot. Poly. There are many types of Isolation Covers are available, which will be selected based on a variety of protection levels.
Hospital Gowns are the most common form of barrier protection used by the Healthcare Industry. These Gowns are used for Surgical, Isolation, or Low-risk cases, available in many styles and designs.
Isolation Gown is used for minimal risk cases such as basic care, standard isolation, standard medical ward, or visitors covers gown.

Low-risk Isolation Gown for cases like blood draw, Intensive Care Unit, or Medical Labs.

Cases like Heavy Blood Draw, Emergency Room, or Trauma are moderate risks.

High-risk Isolation Gowns for a high level of infectious diseases like Covid-19, Surgery, fluid intense, etc.
In the marketplace, we can find a variety of fabrics and a wide range of fibers used for Protective Gowns. Isolation Gowns are generally classified as "Disposable/Single Use" or "Reusable/Multiuse". The study suggests that the U.S mostly use "Disposable Gowns", whereas Europe uses "Reusable Gowns" in larger quantity. "Disposable/Single Use" is designed with a combination of materials rather than woven or knitted materials (e.g. polypropylene, polyester, polyethylene). "Reusable/Multiuse" is made of 100% Cotton, 100% Polyester, or Poly Cot blends. These fabrics are tightly woven and pressed through rollers to enhance the high level of fluid barrier properties. It can be reused and washed more times.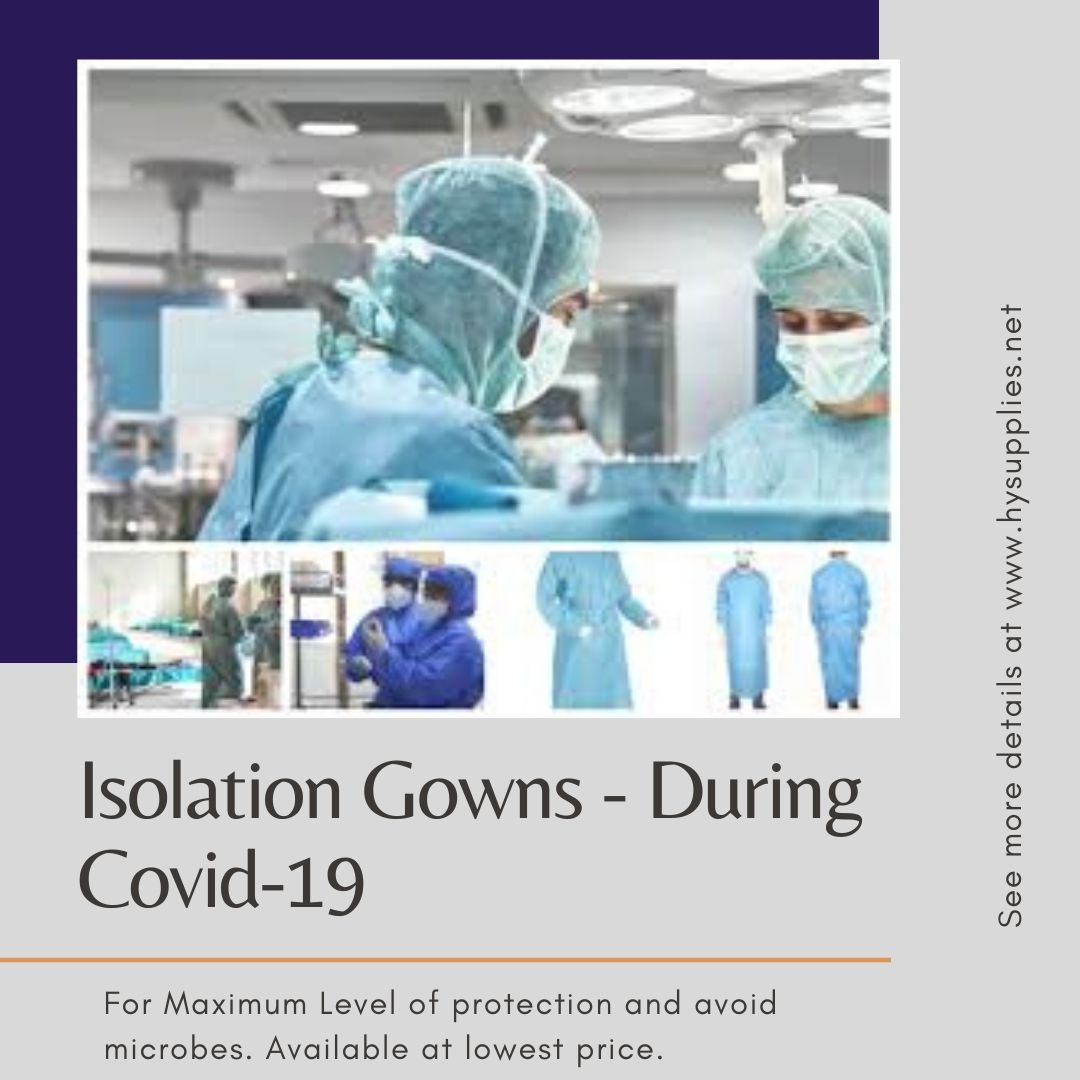 HY Supplies provides Premium Quality, Reusable Isolation Gowns for the medical professional to take care of patients especially in these pandemic situations. Our Isolation Gowns are specially made for the current situation (Covid-19) to safeguard medical workers from infections. It is made of 100% continuous filament polyester yarns with Knit cuff which are barrier effective, comfortable, all size fit, odor-free, quality maintenance, etc.