HY Supplies Inc. is Here To Help You During COVID-19 Through Medical Textiles and Hospital Linens
Friday, April 17, 2020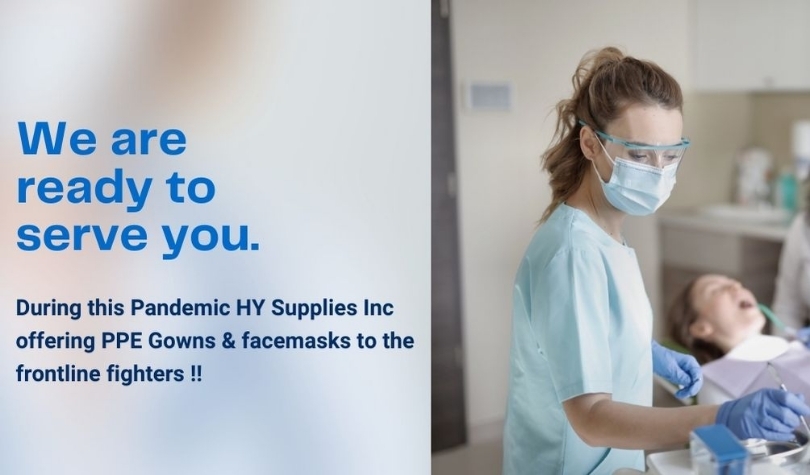 Healthcare Textiles are the field that combines the textile industry with medical science. Medical apparel from HY Supplies Inc. is fabricated to fulfill the needs of Healthcare and surgical applications. Our Medical Textiles are produced with strength, flexibility, moisture, and air permeability factors.
We continue to support effective and most importantly to help Hospitals, Nursing Home Care, Senior Care and Assisted Living, Medical Spa, Chiropractic Centers, and Medical Centers, etc.
During this COVID -19 pandemic situation, we are happy to let you know that HY Supplies Inc. is always open and works to support Healthcare Industries in supplying Personal Protective Equipment (PPE).
It's a pleasure for us to be part of the fight against the COVID-19 pandemic by providing Hospital Linens and apparel at Wholesale Prices to fulfill the demands of needy industries. We are continuously working to supply Hospital Equipment to Healthcare Industries, where Medical Professionals are working energetically and vigorously to end the COVID-19 situation.
During the COVID-19 pandemic, Doctors are the frontline fighter who gets affected easily by patients, body fluids, specimens, etc… in and around hospitals. To safeguard them from infectious hazards, PPE (Personal Protective Equipment) is mandatory. We're here to help you!
HY Supplies Inc. is the wholesale manufacturer and supplier of Medical Linens and Apparel in distinct quality, variety, sizes, etc… at an affordable price. Our Product line includes Barrier Gowns, Isolation Gowns, Patient Gowns, Surgical Gowns, Hospital Scrubs, Hyperbaric Linens, Doctors' Uniforms, Patient Robes, Bed & Bath Linens, Cubicle Curtains, Terry Bibs, Reusable Underpads, Surgical Drapes, etc. Our Wholesale Healthcare Gowns help healthcare professionals by preventing the transmission of microorganisms from patients.
In the current scenario, Reusable Isolation Gowns are highly beneficial for Medical professionals in Healthcare Industries. We have tie-ups with the best suppliers all over the world to supply the best protective gowns in quick turns on orders during this emergency. Protective / Isolation Gowns made of 6oz polyester, are available in white or assorted colors, with many pastel shades. Our Wholesale Barrier Gowns are durable with a water-repellent finish and can withstand up to 30 + washes. Place your wholesale orders at affordable deals!! Let's end this COVID-19 by Staying Safe and Healthy!