Current Trends Prevailing In Healthcare Textiles & Medical Fabrics
Thursday, June 11, 2020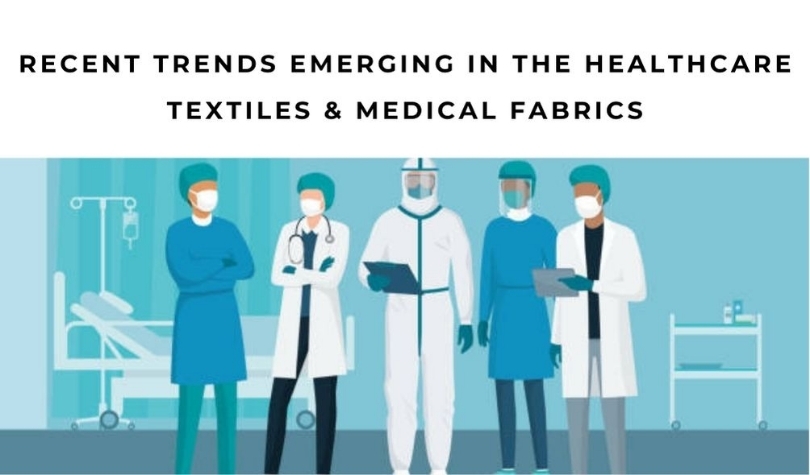 In recent years, two major economic trends have affected the healthcare industry. 1. Budget affecting controlled reimbursements from CMS & private insurers. 2. Market advancements enabling high Healthcare product Delivery.
The high level of consumers employing in-patient care rises strikingly. Healthcare Centers & Hospitals are ascertaining a shrinking in-patient population which demands better outcomes. Hospitals are assessed more in a holistic manner on patient outcomes than ever before. In response to it, they try to capture and control more of the healthcare delivery spectrum. While Healthcare Sectors vertically integrate and touch us at more and more points of care, the expectation is building up more which makes them traveling the path without any hurdles.
How does this affect Healthcare Textiles?
As healthcare systems are making their hard-earned efforts to meet patient satisfaction levels (to earn better reimbursement rates, in part), they see opportunities/demands to use Healthcare Textiles and Medical apparel to nurture them.
Trends in Staff Apparels
Recent research has shown that at least two-thirds of all hospitals have employed a color-coded uniform program for their patient-facing staff in order to help patients and families to clearly identify between the nurse and the doctor. In retain scrubs, synthetic-rich, home-wash performance fabrics are the fast becoming norm. It replaces the old 65/35 Polyester-Cotton & 50/50 Cotton-Polyester stalwart blends. Before the rise of OR Scrubs, the healthcare Industries purchase, process, and make it more performance-based fabrics and designs.
With the fabric treatment and delicate stretch components, these new unisex reversible scrubs will pose a laundering challenge, but offer opportunities for enriched customer relationships if they get it right.
Trends in Patient Apparels
The focus on attaining the patient's satisfaction has raised the expectations of the simple Patient Gowns to offer more comfort, dignity, and performance than ever before. New normal inpatient apparel is having synthetic blends, softer fabrics, brighter and more -stain & fade-resistant prints and designs, and better coverage. This adds up to easy processing and less energy use for laundry. Isolation Gowns made of synthetics are on the rise too.
Trends in Patient Bedding
Recent research shows that healing and recovery are faster and better in a more comfortable environment in Hospitals. Performance fabrics or Value-added Textiles are evolving in the patient environment as well. Besides a plastic ID Band and air the inpatients breathe, it is only Healthcare Fabrics and Medical apparels touch and surrounds every patient 100% of the time.
As we know that the two major contributors to skin breakdown and decubitus ulcers are pressure and moisture, Hospital Knitted Sheets, incontinence products, 100% cotton blankets, as well as Barrier Gowns, which are designed to remove pressure and moisture away from the patient's skin. Therapeutic beds and mattresses help to prevent skin breakdown.
Another wave coming with the preponderance of synthetic knits is the no-fold linen system in Hospital Bed linens. Knitted bottom and top sheets, pillowcases, and patient gowns are be delivered in bags unfolded and unwrinkled, speeding up post-processing and redelivery times.
In summary, the healthcare industry now offers more alternative points of care as the expectation level from patients is rising more and more. In order to adapt to the new synthetic performance world. , High-performing synthetic fabrics, as well as innovative garments, are emerging!