An Ultimate Guide on Wholesale Surgical Linens for Healthcare Industries
Friday, July 3, 2020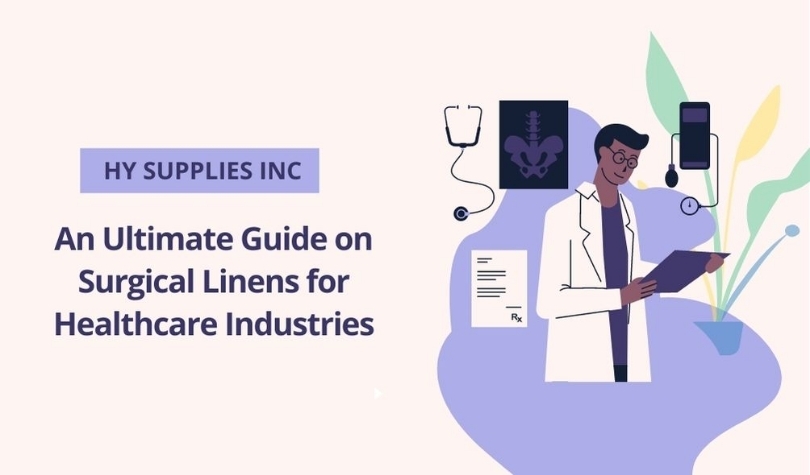 In this era of the Medical Industry, Surgery has become a common practice for some complicated diseases/treatments. In ancient times, Egyptians and Arabs practiced elementary surgery. Even in 600 BC, the world's first plastic surgery has taken place with a higher level of safety for both patients and surgeons. The key components that play a crucial role in Medical Industry for every surgery are Surgical Gowns, Masks, Hair Covering, Gloves, Fenestrated Solid Drapes, Wrappers, and Towels, etc.
Like Surgeons, during COVID – 19, PPE (Personal Protective Equipment) like Protective Clothing/Gowns, Gloves, Face Masks, Face Shields, and other equipment becomes necessary for the public, medical professionals in avoiding the spread of infection or illness.
Here is a guide to the items you should have in your surgical facility:
Surgical Gowns

Surgical Masks

Fenestrated Solid Drapes & Wrappers
Wholesale Surgical Isolation Gowns:
In Hospitals or Healthcare Industry, Surgical Gowns become protective clothing for Medical Staffs' during surgeries to get rid of blood fluids or other microorganisms. Usually, Medical Gowns are available in both reusable and disposable types and need to be breathable and resistant to liquids and solids.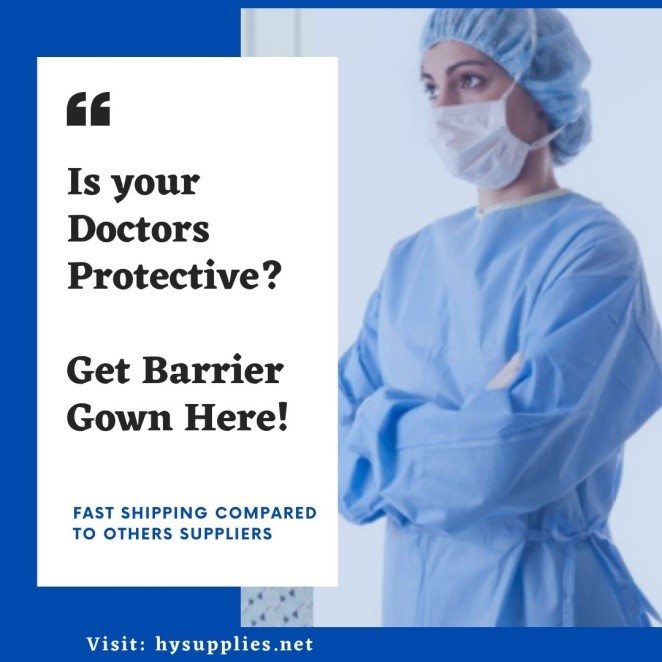 During Surgeries, Isolation Gowns act as a barrier for the patients and surgeons and protect them from biological hazards. HY Supplies surgical gowns are proper for any level of risks (Levels 1-4) and cover all the necessary parts starting from chests to knees and the elbow.
Characteristics of Surgical Gowns:
It should be durable and flexible for the wearer.

Resistant to all kinds of blood or other fluids.

Comfortable to wear and fit without any loose ends.

High tensile strength - will not tear or cut off.

Soft and flexible for extra comfort and ease while working
KN95 Respiratory Surgical Masks:
In the healthcare industry, patients and medical professionals wear surgical masks to protect from infectious aerosols, blood, or body fluids. N95 Surgical Gowns are disposable, loose-fitting, and fluid resistant that prevents the environment from potential contaminations from the users. In surgery, Wholesale Surgical Masks reduce the risk of the surgeon depositing droplets into the surgical site. N95 Respiratory Face Masks give a better seal. It is highly effective in filtering large and small particles.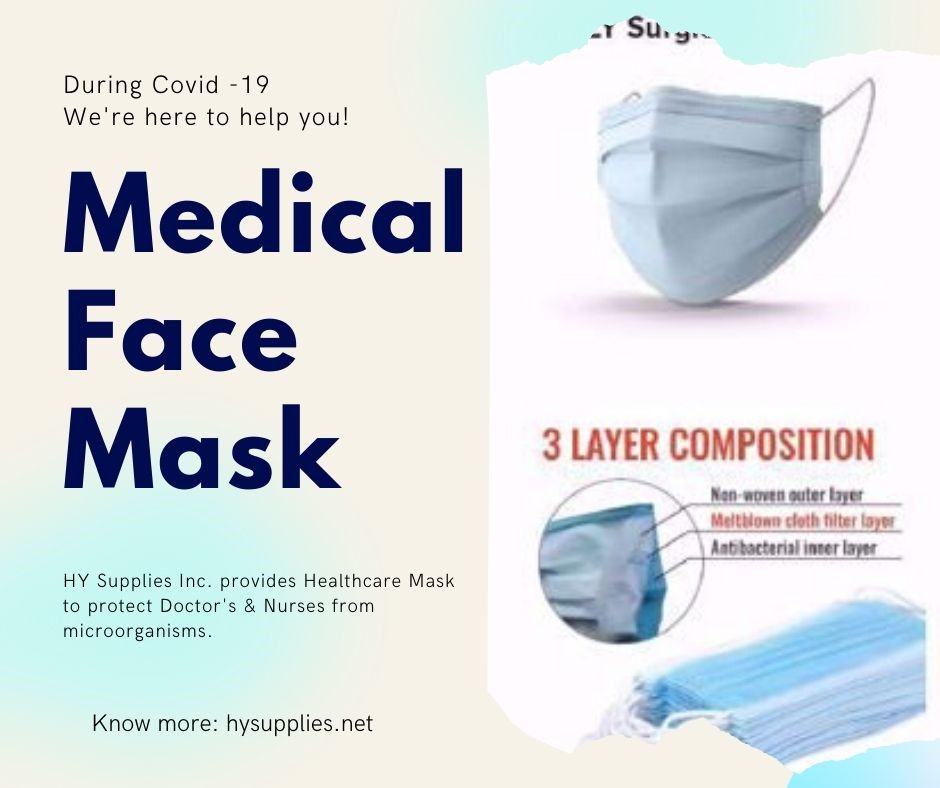 A Medical, Surgical N95 Respirator Face Masks is useful for people to get better protection from airborne and fluid particles. During COVID - 19, Face Masks plays a vital role in preventing contamination of infected people coughs and sneezes. HY Supplies Inc. offers a collection of PPE (Personal Protective Equipment) like 3Ply Disposable Face Mask, KN95 Respiratory Face Masks, 3 Ply Elastic Loop Face Masks, Fluid Proof Masks, and Fashionable Face Mask, etc.
Fenestrated Solid Drapes & Wrappers:
Fenestrated Solid Surgical Drapes during surgery like deliveries or bypass surgery, etc. are to prevent contact with other areas of the patient's body, environment, and equipment sterilization. Surgical Drapes are made of reusable or disposable poly/cotton fabric with barrier protection effectiveness, resistance to ignition, and durability. Surgical Draping will minimize the risk of infection in the surgical site. Usually, Surgical drapes are blue or green that helps to refresh the vision of bloody particles of patients while surgery.
Surgical Blue Wrappers are used to cover the surgical instruments and materials used for surgery. Poly/Cotton or Polypropylene for better durability, breathable and water-repellant. HY Supplies surgical drapes and wrappers help you to keep tools safe from contaminations.
HY Supplies Inc. provides high-quality Medical apparel like Surgical Gowns, Protective Face Masks, Surgical Drapes, and Wrappers, etc. which meet industry standards for better hygienic.