The Ultimate Guide to selecting the best bath products for a luxurious experience
Wednesday, November 15, 2023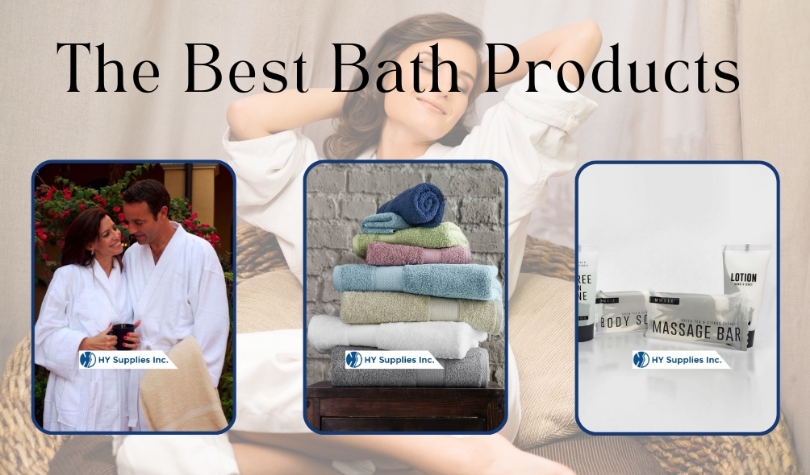 The Ultimate Guide to selecting the best bath products for a luxurious experience
When it comes to hospitality, the little things leave a lasting impression on visitors. The selection of premium-quality bath amenities and toiletry is one such element that can greatly improve the whole experience. Imagine walking into a hotel room that smells wonderfully relaxing and has a wide selection of high-quality bath goods. That type of luxury is what makes a lasting impression.
Superior Bath Products & Toiletries: An Elevated Touch of Vanity
Superior bath facilities are important, and hotels that put their guests' needs first know this. Using high-end toiletries gives the visitor experience a hint of luxury and fosters indulgence and relaxation. These amenities, which range from opulent body washes to premium shampoos and conditioners, enhance the stay and make it unforgettable for all the right.
When choosing the ideal ones for your hotel, consider bath products with nutritious nutrients and lovely scents. Luxurious companies frequently provide a sensory experience that goes beyond simple cleanliness, giving visitors a chance to unwind and take care of themselves.
Different Types of Bathrobe for Hotels: Indulge in Coziness
Putting on a cozy bathrobe after a refreshing shower can elevate an ordinary moment to a wealthy one. Hotels now provide a range of bathrobe options to visitors to accommodate their varying preferences, realizing the effect of this small gesture.
Bathrobe selections range from warm and cozy fleece alternatives to lightweight cotton robes that breathe well, reflecting the commitment to giving individualized comfort. Certain institutions even go above and beyond by providing robes with embroidery or monograms, which lends an air of exclusivity.
Bath Towels in White and Colors: A Pop of Style and Usefulness
Towels are essential to the bathroom experience because they combine style and utility. While traditional white towels radiate a timeless elegance, colorful towels can give the room character and flair. The hotel's general design style and intended atmosphere are major factors when selecting white and colored bath towels.
A spa-like ambiance is created using white towels, which exude refinement and cleanliness. Conversely, colored towels might be deliberately arranged to accentuate a certain color scheme or atmosphere within the hotel. Colored towels, in either a soothing blue or a striking coral, can be a subtle but useful addition to a room that works well together and looks good.
In conclusion, a hotel's entire atmosphere is greatly influenced by the care used to pick high-end bath items, provide various bathrobe options, and decide between colored and white towels. These seemingly insignificant decisions give visitors an opulent and unforgettable experience, laying the groundwork for an extraordinary stay. Ultimately, small indulgences have the most influence in the realm of hospitality.