Which Types of Bed Sheets is Ideal for VRBO and AirBnB?
Tuesday, November 8, 2022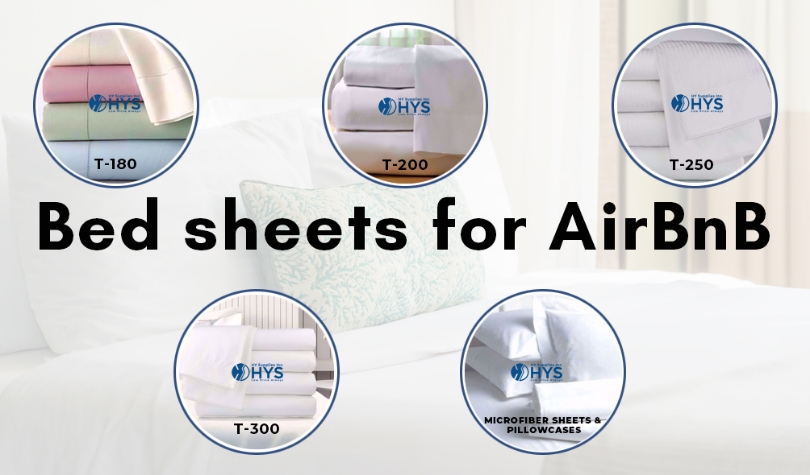 Airbnb hosting is popular among property owners to earn a side or full-time income. One big reason behind its wide acceptance is the ease of registration, listing of the property, and doing business securely.
Airbnb or VRBO listers can increase the possibility of income by offering the required amenities for the guests on rent! It includes the demand for neat and convenient bed sheets in general!
This post will help you get the ideal and best cotton sheets for AirBnB bed sheets. It would help you gain maximum positive reviews from your temporary tenants, helpful to expand the business in the future.
5 Tips to Pick the Best White Sheets for AirBnB
If you are in search of the best color sheets for AirBnB to better serve your guests, you should remember the below-proven facts;
The sheets should not feel rigid on the skin of their users. It must give a good feeling when rolling over or rubbing against the skin.
Most people like a silky soft sheet in their bed for a peaceful sleep at night! So make your guests feel at home when they sleep on it after hectic travel.
It is best to have Wrinkle resistant properties in bedsheets to look good even after multiple uses.
Prefer to offer a Lightweight and Breathable AirBnB VRBO sheet for your guests for extra comfort.
The Weave design in AirBnB sheets and towels should be like that it can make the fabric easy to dry.
Arranging a Comfy bed, a set of pillows, and the mattress is not enough! It must be matched well with the best microfiber sheets for AirBnB to offer overall satisfaction to your guests.
Do you know? A microfiber towel takes one-third of the space required for a regular towel. It has a good level of water absorption property and can dry out fast within half an hour. The same situation goes with AirBnB/VRBO sheets as well!
Many of you might be confused between Cotton and Microfiber sheets on what to use. In this case, you should know the difference between the two to make a confident decision.
Microfiber sheets are soft and affordable. Luxury resorts generally use bedsheets of microfiber materials to avoid hefty wash and dry cycles. Long-staple (extra-long) fibers can make the bedsheets the softest and most high-quality. On the other side, Cotton sheets are much more breathable and cost lesser in price.
It is the primary duty of the Airbnb /VRBO host to keep the rental space as fresh and clean as possible for the guests. Yet, not all can realize the importance of maintaining the best towels and sheets for AirBnB. After all, no one can deny the truth that not every traveler wants to carry bedsheets along on a vacation trip.
You can get the ideal options for AirBnB sheets and towels at reliable online shopping platforms. So, promise a good sleep for your guests. It will help you gain more positive feedback in return. After all, you are helping them reduce anxiety, stress, or fatigue common in a journey!