Why Salon needs Bleach Safe Towels?
Thursday, June 10, 2021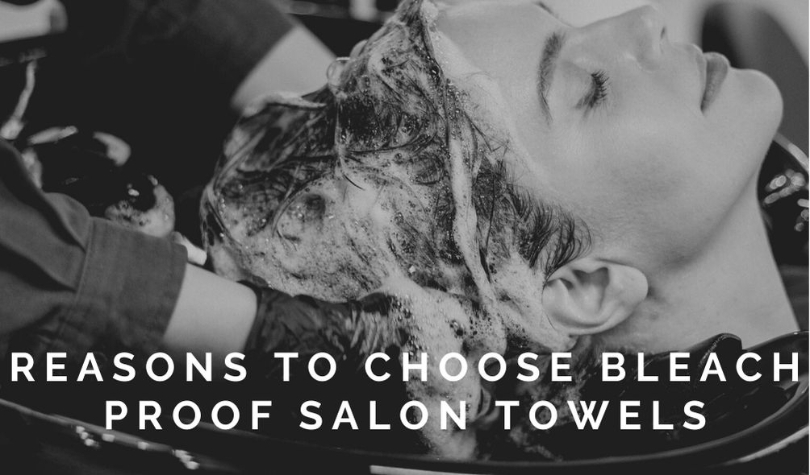 Salon – is the place involving various activities such as hair coloring, haircutting, and washing. Harsh Chemicals and shampoo take part in it. Towels are the primary source to indulge in those salon activities. If you own a salon shop, you must know the importance of salon towels.
In regular salon use, towels must be in continuous contact with the hair care products. Those chemical products leave a stain mark on the towels. In another case, wet towels are a good place for microbes to grow. The only solution is to wash towels with "Bleach" to eliminate the stain and germs.
Bleach is a chemical substance that is well-known as "Stain remover" and "Disinfectant." Bleach wash retains the softness and newness of the towels, but it damages the color of the towels. For that reason, Salon industries prefer the "Beach Safe" or "Bleach Resistant" towels for salon use.
Bleach does not decolor the safe bleach towels in the regular wash and protects its longevity. Buying bleach-resistant towels save money on towel replacement.
Reasons to choose Bleach proof Towels:
Retains towels look:
A towel is in good condition lets your salon customers feel comfy and cozy. Bleach washing helps to retain the new look of the towels in the long run. Bleach-proof towels are essential to make a good impact among customers on your salon service. Bleach ensures your customers can utilize stainless and germless Bleach-proof towels.
Assorted colors:
Bleach safe towels are available in a variety of vibrant and light colors. In the tons of choices, pick the color which matches the interior theme of your Salon. These towels are manufactured with a dye that does not react with Bleach. In bleaching, Bleach resistant towels withhold their original color for a longer duration.
Compatible sizes:
Salon professionals can't use the hair towels to wipe off their hands while working. Bleach-proof towels come in various sizes to fulfill the various functionalities of the salon station. It's available as Hand Towels, Face Towels, and Hair Towels.
Simple Washing:
It's another good factor that it's easy to wash Bleach-resistant towels. These towels never spill the color in the bleach washing. Without separating dark & light color towels, you can wash them together in one laundry cycle. Add a small amount of detergent, and Bleach would suffice to remove the stain from the towels.
Durability:
Bleach-resistant towels are long-lasting. Bleach washing lets the towels possess their softness and a new look for many washes. Buying suitable towels for Salon reduces the investment in towel replacement.
Fill your closet with high-quality and long-lasting bleach-proof salon towels!!